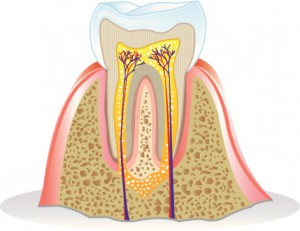 If you've ever had a toothache, then you know that the pain can be almost indescribable. You'll do practically anything to get rid of the pain. You'll even consider a root canal! Actually, root canals get a bad rap. In truth, a root canal is a painless procedure that not only eliminates the pain but also the cause of the pain. Dr. Deborah Romack of Cosmetic & Family Dentistry in Weatherford, TX and serving Aledo, TX, can give you the relief you need and save your tooth and your smile with her expertise in root canal therapy.
A tooth is more than what we see above the gums, according to Aledo family dentist, Dr. Romack. Inside the tooth and its roots are blood, nerve and soft tissues that comprise the root's pulp. Sometimes, this pulp becomes damaged or infected because of deep tooth decay, a severe crack in the tooth or a hard hit to the face that damages the tooth. This damage or infection is what causes the terrible pain. Other signs that indicate a root canal is needed include:
Sensitivity to hot or cold
Swollen gum tissue around the affected tooth
A discolored tooth, specifically a tooth that appears darker in color
If left untreated, there is not only pain and these other symptoms to contend with, but also the possibility of an abscess, bone loss around the tip of the root, or illness from bacteria that migrate into the body.
During a root canal, Dr. Romack is the Aledo dentist who will remove the tooth's pulp and thoroughly cleans the pulp chamber, eliminating any decay or debris from infection. The chamber is filled with medicines and root canal filling. Then the tooth is outfitted for a permanent crown to protect the tooth.
Schedule an Appointment Today
If you or someone you care about is exhibiting any of the signs that indicate the need for root canal therapy, then call the dentist Aledo depends on: Dr. Deborah Romack at Cosmetic & Family Dentistry in Weatherford, TX. We are also the children's dentist Aledo, White Settlement, Mineral Wells, Azle, Saginaw and Benbrook turn to for their children's oral healthcare.