Dental Checkups & Teeth Cleanings – Weatherford, TX
Keeping Smiles Healthy Year-Round
You may not realize it but each time you put off or avoid going to the dentist's office for a regular dental checkup and teeth cleaning, you're putting your oral and overall health at risk. It doesn't take much time for gum disease or tooth decay to develop and become serious. When they do, it can lead to significant health problems, including heart disease, stroke, and even negative cognitive brain function. If it has been a while since your last visit, let a dentist at Cosmetic & Family Dentistry of Weatherford stop oral health problems in their tracks. Our team of professionals can create personalized treatment plans to address any dental issue, helping you achieve a more beautiful, healthy smile. If you're ready to experience the benefits of preventive dental care, contact us today to schedule an appointment for a dental checkup and teeth cleaning in Weatherford.
Why Choose Cosmetic & Family Dentistry of Weatherford for Dental Checkups & Teeth Cleanings?
Comfort-Focused Dental Technology
We Treat Dental Patients of All Ages
Comprehensive Treatment Plans Designed to Meet Patients' Needs
What Happens During a Typical Dental Checkup?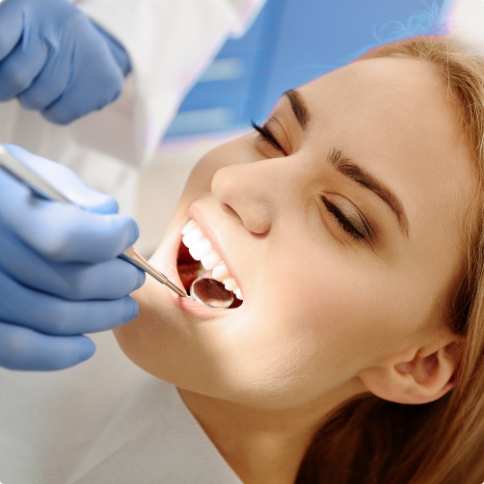 If you think all that happens during a regular visit to the dentist is that you get your teeth cleaned, there's actually a lot more to it. At least once a year, the dentist comes in and spends just a few minutes looking everything over, talking to you about tips and offering advice. No matter if the dentist spends 5 or 30 minutes with you, the checkup they perform is a crucial component of your visit.
Once a year, during your six-month checkup, you can expect Dr. Decker or Dr. Mulkey to check for any signs of tooth decay or gum disease. In addition, they'll look for signs of teeth grinding, TMJ/TMD, sleep apnea, and even oral cancer. It's important that we check for any signs or symptoms associated with this disease, as early detection is key to successfully treating it.
What Happens During a Typical Dental Cleaning?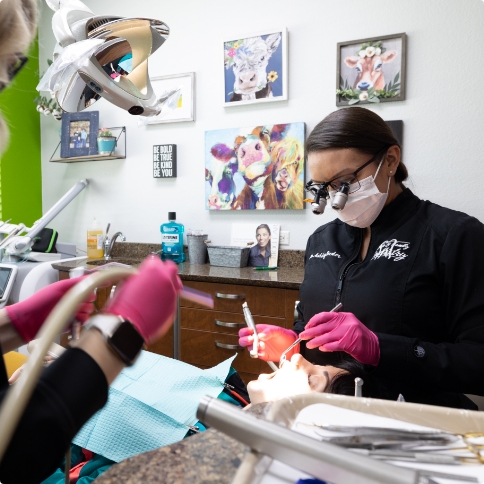 Our highly skilled dental hygienists want you to leave our office with a clean and healthy smile, so you can expect a thorough cleaning while at Cosmetic & Family Dentistry of Weatherford. If necessary, we'll take X-rays of your teeth to get a better view of your mouth in its entirety. This will also help our hygienists when charting your gum pockets. At least once a year, they'll thoroughly measure your gum pockets, inflammation and recession to determine if there is any reason to be concerned about gum disease. Then, they'll check each tooth for any signs of tooth decay or cavity development.
Once everything has been thoroughly checked, the cleaning process will begin. Using specialized tools, they will remove any plaque and tartar build-up around the gumline before polishing and flossing your teeth. This will give your teeth that smooth and shiny feel and have you grinning ear to ear as you leave our office.
At least once a year, the hygienist will do an Itero scan on your teeth and occlusion. This is a digital image of your teeth and bite to monitor tooth wear, tooth movement or shifting, recession, tooth fractures or other tooth trauma. This helps your dental providers better monitor any changes or trauma to our teeth.
If at any point during your checkup or cleaning we discover any advanced problems, we'll discuss various treatment options to help you get your oral health back on track.