Metal-Free Dental Restorations – Weatherford, TX
An Aesthetically Pleasing Way to Protect Vulnerable Teeth
The Cosmetic & Family Dentistry of Weatherford team is committed to delivering high-quality, long-lasting dental restoration options. While other dental offices may sacrifice some cosmetics to deliver durable, functional results, we think our work is only half done if your smile doesn't look as good as it feels after dental treatment. This is one of the main reasons why we recommend using metal-free restoration materials. In addition to the beautiful appearance, these restoration materials reduce the risk of adverse responses that some patients experience with metal restorations. If you're interested in learning more, call our dental office in Weatherford to ask our knowledgeable team any questions you may have or schedule an appointment to visit us. We can't wait to see your smile.
Why Choose Cosmetic & Family Dentistry of Weatherford for Metal-Free Dental Restorations?
High-Resolution Imaging & Impressions
One-on-One Personalized Attention
Dental Insurance Welcome
What Are Metal-Free Dental Restorations?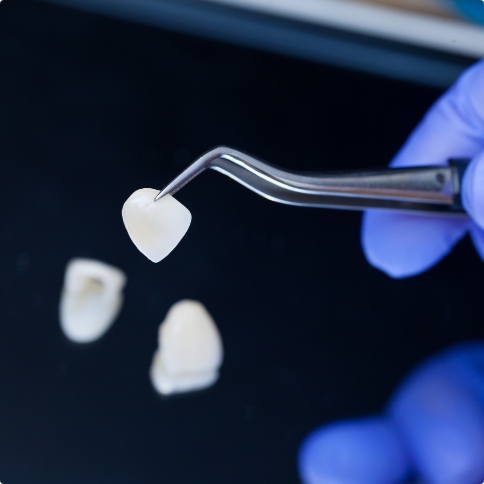 Metal-free dental restorations are usually crafted from composite resin (a combination of glass and plastics), ceramic/porcelain, or zirconia materials. These tooth-colored materials are used to create fillings, dental crowns, fixed bridges, and other dental restorations that not only replace lost tooth structure but fully renew the appearance of your smile as well. No matter how badly damaged or flawed your smile is, our team can create a personalized treatment plan that delivers a smile that looks and feels brand new.
What Are the Benefits of Metal-Free Dental Restorations?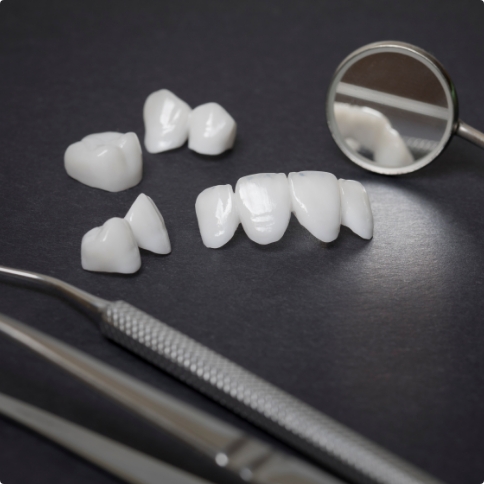 For decades, it was assumed that metal restorations would be more durable than their tooth-colored counterparts. Today, we understand that the way the restorations are manufactured, and the types of metal-free materials used can actually deliver stronger, longer-lasting results than those possible with metal restorations. Some benefits associated with metal-free dental restorations include the following:
Natural results – You don't have to worry about noticeable metal materials when you speak or smile with a metal-free restoration. Instead, you can experience complete confidence once more with a natural-looking result.
Avoid allergens – Many patients don't even know that they have allergies or sensitivities to metal until after a dental restoration is in place. Some people put up with mild discomfort for years before discovering their metal restoration is the source, and others can experience more severe swelling, inflammation, and other allergic responses. Metal-free materials are much more biocompatible, meaning these responses are less likely.
Longevity – Stain-resistant porcelain and zirconia restorations can last a decade or more with proper care all while maintaining a flawless, natural-looking result.
What Is the Metal-Free Dental Restoration Process?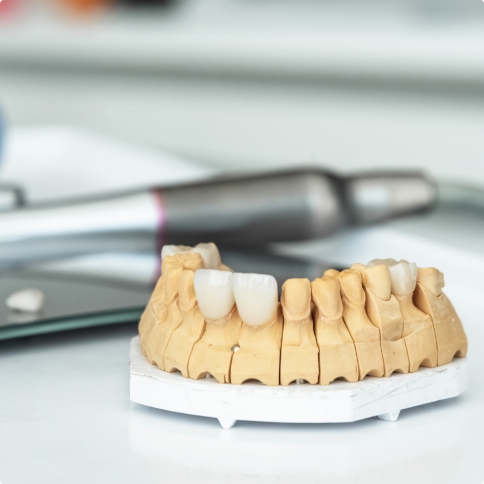 Tooth-colored fillings and other restorative or cosmetic dentistry services using composite resin can be completed in just one appointment. The putty-like resin is applied directly to the tooth, shaped into place, and hardened using a curing light. Crowns, bridges, and more advanced ceramic and zirconia dental restorations will require at least two trips to our dental office. During the first visit, your smile is prepared. Then, we capture impressions for our lab and place a temporary to protect your smile. When our lab returns the final restoration, you'll come back in for the second visit. This shorter appointment simply requires us to remove the temporary and replace it with your custom, tooth-colored restoration.