About Our Dental Office – Weatherford, TX
Helping Patients Smile with Confidence for More Than 50 Years
Welcome to Cosmetic & Family Dentistry of Weatherford! Dr. Garrett Mulkey, Dr. Ashley Decker, and Dr. Deborah Romack are proud to be part of a dental practice that has been serving the Weatherford community for over 60 years. Our goal is to continue the tradition of offering comprehensive family dentistry with the kind of one-on-one service that truly leaves a smile on our patients' faces. We always consider that your time is just as important as ours. One way we do that is by having one of the most high-tech dental offices in the area. Between the latest technology and our decades of experience, you'll be amazed at how quickly and efficiently your next dental appointment will fly by. Sound like the place for you? We'd love to meet you and your family, so be sure to contact us today!
Our Philosophy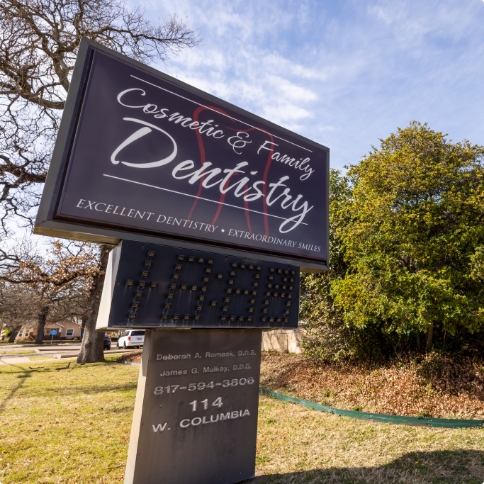 At Cosmetic & Family Dentistry of Weatherford, our philosophy is to foster an atmosphere that ensures our patients are happy when they are here and happy once they've left. We are rewarded with the knowledge that we have achieved this goal to the best of our ability.
We pride ourselves on being able to offer "big city benefits" while continuing to have that "small town feel." We strive to educate our patients so that they can confidently be involved in the decision-making process of their care. We are like a GPS for oral health, and the patient is the driver; we'll never pressure a person to make decisions about their dental care with which they're not comfortable.
Committed to Total Health Dentistry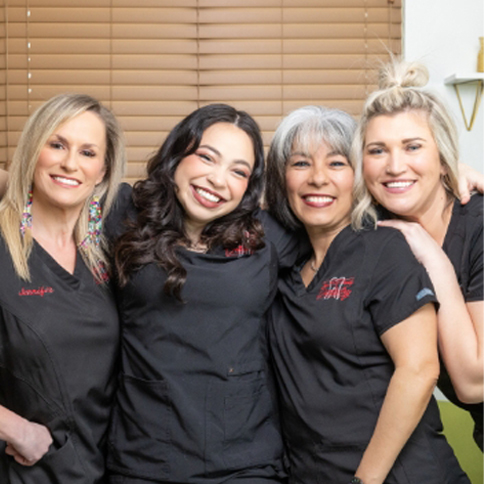 How do you feel when you wake up in the morning? Are you energized, positive, and ready to take on the day, or slow, sluggish, and negative? This might be completely out of your control despite having consistent sleeping habits, and fortunately, we can help you right here at Cosmetic & Family Dentistry of Weatherford.
There is something called the oral-systemic connection. Basically, the mouth is the gateway to your body, meaning that just by looking at your teeth and gums, Dr. Garrett Mulkey, Dr. Ashley Decker, and Dr. Deborah Romack can tell a lot about your overall health. Just by checking the condition of your teeth and gums, they can spot signs that you may develop serious conditions like heart disease, stroke, and diabetes in the future. By catching these problems early, you can start getting the treatment you need even sooner.
At our Weatherford dental office, you can get services such as:
Health programs for children that will have immediate and lifelong benefits.
A comprehensive two-hour new patient, oral-systemic exam for adults.
Tests and screenings for obstructive sleep apnea, HPV, persistent infections, and candida.
How to alleviate dry mouth and other common side effects from prescription medications.
A home sleep study to help screen for sleep apnea.
Oral appliance therapy to treat sleep apnea and/or snoring.
An oral cancer screening.
Constant communication and coordination with any other doctor who is currently giving you treatment.
Sedation options and consulting on all the sedation options to help you overcome dental phobia.
Also, with every treatment, we will always keep an eye on the health of your airway. Breathing problems can lead to an endless array of health issues, many of them ultimately proving fatal. With a healthy and open airway, you'll wake up refreshed and ready to take on the world.
Outstanding Dental Technology & Comfort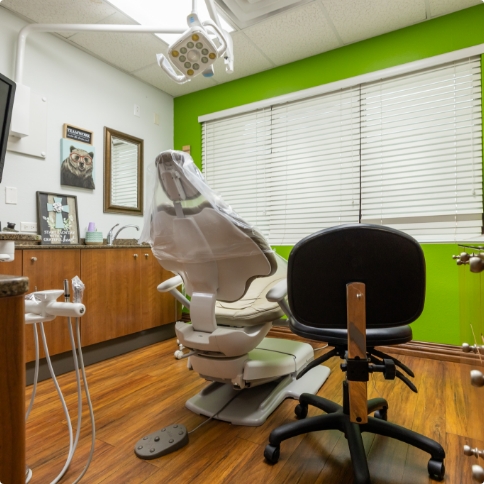 We combine the latest dental technologies and proven techniques with a gentle, caring touch to create a truly unique kind of dental experience.
Our office features a variety of soothing comforts. They include a Keurig coffee maker, blankets, special neck pillows, and warm towels at the end of each procedure. We want our office to feel like your home away from home!
We also offer nitrous oxide and oral conscious sedation to make your visit even more comfortable.