Invisalign Clear Aligners – Weatherford, TX
Your New Smile Awaits
Are you considering a straighter smile? If you've avoided orthodontics in the past because of the appearance and hassle of traditional braces, we have the answer: Invisalign in Weatherford. We offer Invisalign to our patients to give them a way to straighten their teeth with beauty and comfort. These clear, smooth plastic aligners are completely removable and incredibly discreet! Read on or call our dental office to learn more about this orthodontic treatment option and its benefits.
Why Choose Cosmetic & Family Dentistry of Weatherford for Invisalign Clear Aligners?
Highly Accurate Digital Impression System
Qualified & Trained Dentist
Locally Owned & Operated Dental Practice
How Invisalign Works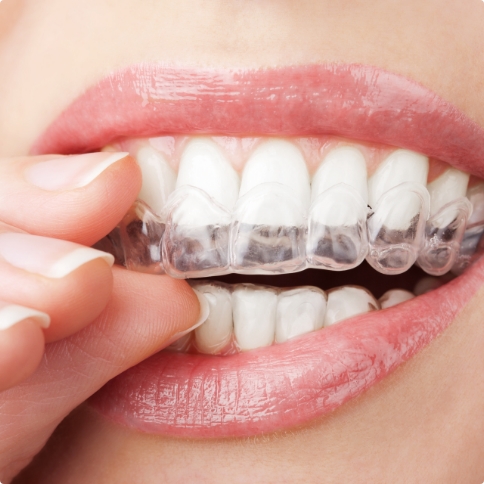 Invisalign treatment involves the use of a series of clear plastic aligners that are designed to slowly shift your teeth into place. After we've taken special impressions and images of your smile, we will create your Invisalign aligners. You'll wear each aligner for 20 to 22 hours a day, for about 2 weeks, switching them out for the next in the series to progress your treatment. After about 10 to 18 months, you'll have a perfectly straight smile. Dr. Decker will recommend that you wear a retainer to ensure the results of your treatment for a lifetime.
Who Can Benefit from Invisalign?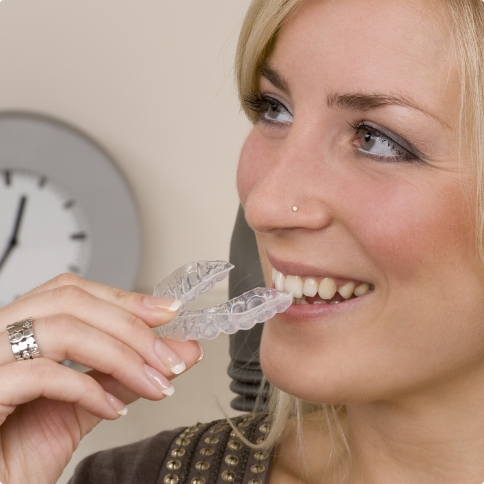 Many patients wonder whether or not Invisalign treatment is right for them. You may be a candidate if you have any of the following orthodontic issues:
Crowded Teeth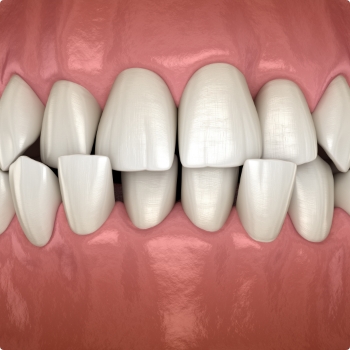 Few people have naturally straight teeth. Too often the teeth are too close together. In some cases, they may even double up in the gums. This can make you feel insecure about your appearance, but it can also lead to oral health concerns.
When your teeth aren't in their proper positions, it makes them more difficult to clean, especially in areas where they overlap. Even the best brushing and flossing habits can leave behind harmful food particles, plaque, and bacteria. This significantly increases your risk of tooth decay and gum disease.
You may also notice you suffer from bad breath, which can be another source of embarrassment. Misaligned teeth can also lead to uneven wear or strain on your enamel. You may even experience some gum damage. The complications can take many forms, each of which can have lasting issues with your oral health.
Spaces Between Teeth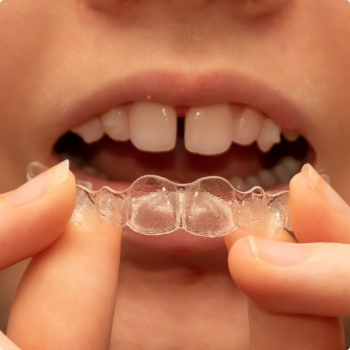 If you have gaps in your smile, you may be all too familiar with the effects that missing teeth can have on your appearance. However, gapped teeth are also home to bacteria and plaque that can cause a whole new set of issues. Typically, gapped teeth can be the result of:
Thumb-sucking or using a pacifier beyond the age of 3
Having small teeth
Missing teeth
Experiencing tongue thrust
Having a large frenulum
Regardless of why your teeth are gapped, Invisalign will align your smile to eliminate gaps for a healthy set of teeth.
Bite Alignment Issues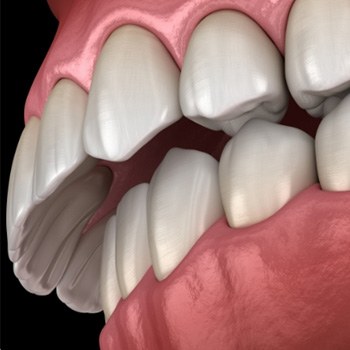 The mouth is designed so that the teeth will match up correctly; however, when this is not the case, you can experience chronic jaw pain as well as problems feeling confident in your appearance. This will increase your fear and anxiety of being in social gatherings. Overbite, underbite, and crossbite are some common bite alignment problems that patients can have.
An abnormal bite can lead to a myriad of problems, some of which include:
Speech difficulties
Social anxiety
Temporomandibular Joint Disorder (TMD)
Excessive wear and tear on your teeth
While more severe alignment issues can only be fixed with traditional orthodontics, Invisalign can help with mild to moderate bite problems to avoid excess wear and tear on your dental structure.
Benefits of Invisalign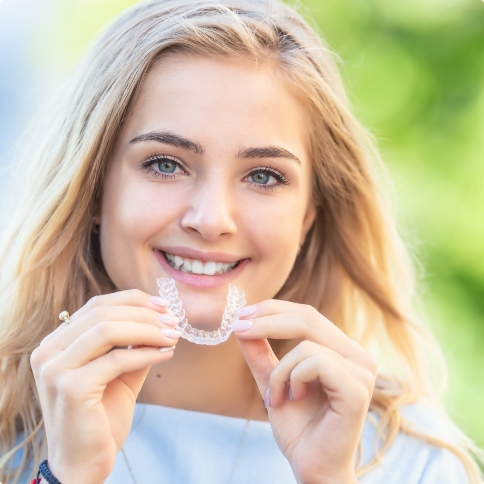 For years, traditional braces have been the only solution to removing gaps in your smile. It was the only solution to improve your overall bite, make your teeth more aligned, or reduce the negative effects of crowding. Now, thanks to clear aligner technology from Invisalign, you no longer have to settle with the pitfalls that come with traditional orthodontic treatment. Dr. Ashley Decker is prepared to examine your issues in great detail and put you on the best path toward a more attractive and healthier smile.
Maintain Your Appearance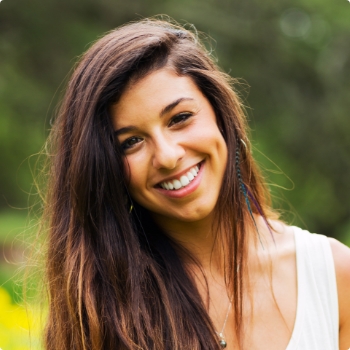 The plastic used for clear aligners is incredibly transparent. In fact, it is so transparent, that no one around you will even notice that you're wearing the aligners unless you tell them, or you remove your trays in front of them. As long as you clean them and brush your teeth after eating richly pigmented foods, you won't leave stains on them, nor will they lose their transparency. If you're someone who relies on their appearance for their job, you don't have to sacrifice it just to achieve a straighter smile. And if you have an important occasion coming up, such as a wedding, your wedding photos don't have to include a metal mouth.
Improved Comfort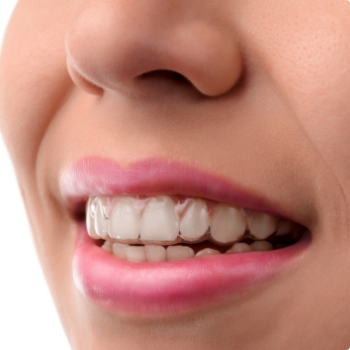 Invisalign clear aligners are made from smooth plastic, which fits snugly around each of your teeth. Since you're going to wear them for about 20 to 22 hours per day for several months, it's incredibly important that they feel comfortable. As a metal-free solution to orthodontics, clear aligners are truly ideal for long-term use. There's no risk of metal components (i.e., brackets and wires) breaking or bending. Dental emergencies can easily happen if metal orthodontics get damaged, but clear aligners prevent this issue in the first place.
Freedom to Eat the Foods You Want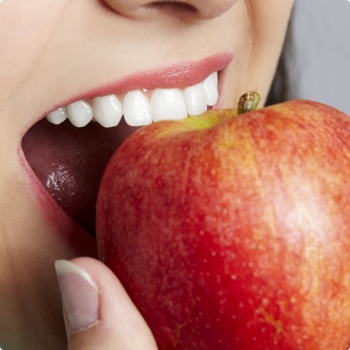 Clear aligners from Invisalign are completely removable. This makes sense since you'll have to remove them to eat meals and practice oral care, but it's quite a major benefit when compared to traditional orthodontics. Braces force you to constrict your diet and avoid eating foods that could get caught in or even damage your hardware. With clear aligners, you simply remove them and place them in your protective case. You can even chew gum! Just make sure to never eat with the aligners still in, as they are not strong enough to withstand daily chewing forces.
Faster Results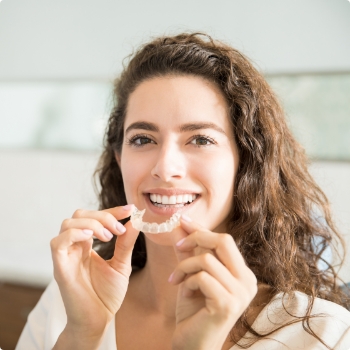 Traditional braces require a minimum of two years of wear before any results can occur. With Invisalign clear aligners, your treatment only takes between 10 and 18 months. It's one of the fastest orthodontic treatments on the market that keeps aesthetics, comfort, and functionality in mind. On top of that, because you're getting the entire series of aligners upfront, you don't have to visit the dentist as often as you would if you had traditional braces.
Types of Invisalign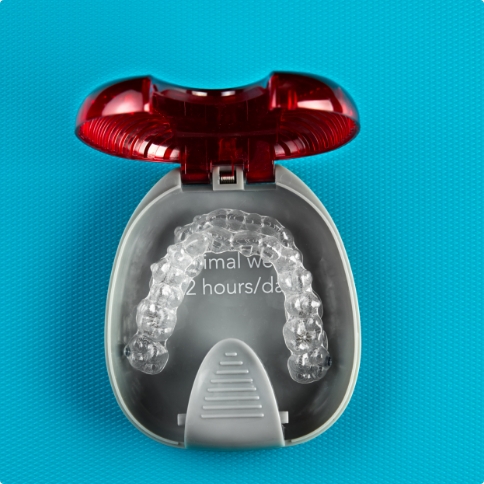 If it sounds like Invisalign is right for you, contact our office. Your dentist in Weatherford offers various types of clear aligners to provide a stylish and comfortable solution for more patients. Whether you need Invisalign, you have a teen at home with a misaligned smile, or you need an accelerated treatment plan, we have multiple options to provide you and your family with the care that you need.
Traditional Invisalign
Traditional Invisalign treatment is recommended for adult patients in their mid-20s or older. These treatment plans use a series of clear, plastic aligners to gently shift teeth into the ideal alignment over the course of about twelve months. Each set of alignment trays represents the smile as it moves one step closer to the ideal alignment. You'll wear the aligners for about two weeks. Then, simply exchange the aligners for the next set in the series. Rather than frequent office visits to adjust brackets and wires, you will simply need to attend short checkup visits in our practice every six to eight weeks to ensure your smile is progressing according to plan.
Invisalign Teen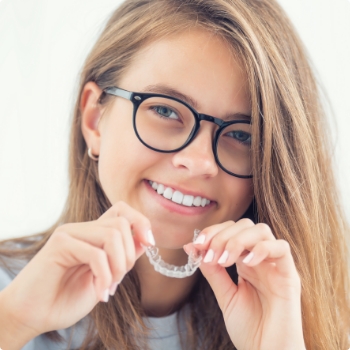 For busy teens and those who want to keep their smiles looking great throughout treatment, Invisalign Teen may offer an ideal solution. The system works the same way as traditional Invisalign, but there are many features especially beneficial for teens, including:
These systems offer as many as six complimentary replacement aligners because Invisalign on cafeteria trays often ends up in the trash.
There are indicators in place to allow parents and dentists to tell whether or not the teen is wearing their Invisalign trays for the necessary amount of time to achieve the desired results.
Unlike traditional braces that are often complicated by the teen's growing smile, Invisalign Teen allows the dentist to guide newly erupting teeth into alignment.
The Propel Accelerated Orthodontic Plan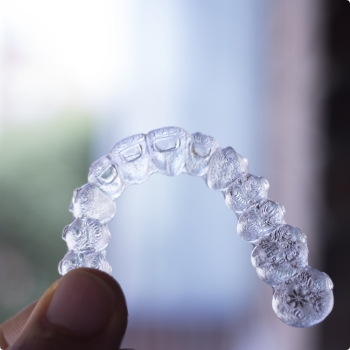 Whether you choose to straighten your smile with Invisalign or traditional bracket and wire braces, you may want to consider speeding up the process with Propel. This system of accelerated orthodontics offers patients quicker and more comfortable tooth movement throughout their orthodontic plan. In addition to the traditional Propel Excellerator treatment to speed the orthodontic process, we also utilize the innovative VPro5 tool to help patients make the most of their Invisalign treatment plan. You'll use the VPro5 tool at home. For about five minutes each day, the tool is placed to ensure the Invisalign trays are properly seated to ensure maximum effect. We encourage patients to complete their VPro5 therapy immediately before going to sleep. For most patients, this is the longest consecutive wear time, so the VPro5 treatment can offer maximum efficacy.
Understanding the Cost of Invisalign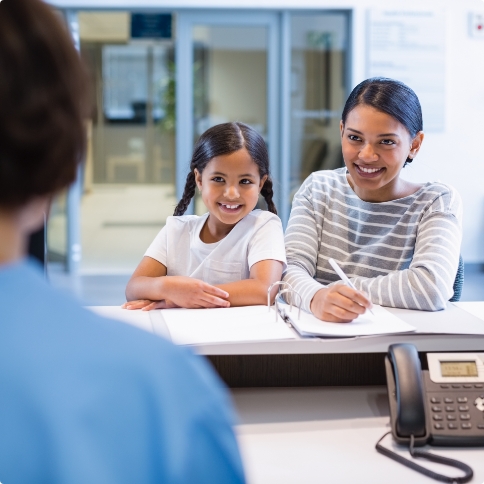 When preparing to start your Invisalign treatment, one of your first questions will likely be "How much will it cost?" There are numerous factors involved with each case, so while you're meeting with our expert team of professionals, they will be happy to provide you with a more thorough explanation of how much your Invisalign treatment will cost and offer ways you can begin to think about creating a budget for your brand-new smile. Should you need assistance in paying for your Invisalign, financing is available.
What Factors Influence the Cost of Invisalign?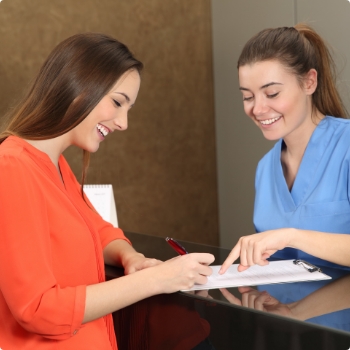 When you arrive for your initial consultation, our team will start by examining your smile and determining if Invisalign is right for you. Should you be given the green light to move forward with treatment, you can expect that you'll not only receive personalized treatment during this visit but also a cost estimate of how much you can expect to spend for a straighter smile.
Some of the factors that are considered include:
The number of aligners you will need throughout treatment
The severity of your dental problem (i.e., overcrowding, spaces between teeth, bite alignment)
If you require only a top or bottom aligner or both
The retainer you'll need to wear once you are finished with Invisalign
If you need any pre-orthodontic dental work (i.e., tooth extraction)
Is Invisalign Worth the Investment?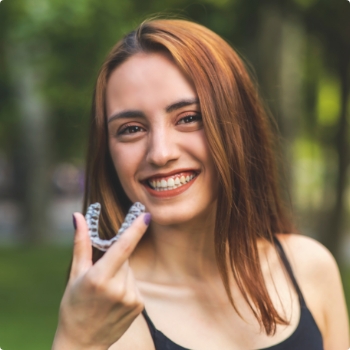 If wearing a mouth full of metal doesn't sound like a great time to you, the opportunity to receive treatment by wearing clear aligners might sound more appealing. Invisalign offers a wide array of benefits that cannot be achieved with any other orthodontic treatment, such as:
Improved confidence and appearance
Better oral health
Ability to eat whatever you like without restrictions
Flexibility and convenience
No chance of irritation
Minor discomfort
Shorter and fewer dental visits
Faster treatment
What Can I Expect at the Invisalign Consultation?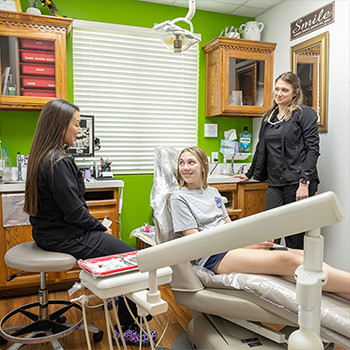 During your initial consultation, your dentist will want to look at your smile in its entirety to get a better understanding of how severe your particular problem may be. Whether you have overcrowding, spaces between your teeth, or a bite alignment issue, it's important that one of our dentists evaluate your smile and determine if Invisalign or traditional braces will help you reach your desired goals.
After a visual exam, digital impressions will be taken of your smile as a way for us to map out your smile sequence. This will not only allow us to determine how it will develop over the course of treatment, but these images will also help dental lab technicians create your customized aligners so that they fit your mouth comfortably.
You'll also receive a breakdown of how much you can expect to pay for your Invisalign treatment. After looking at all the factors your dentist is taking into consideration, you are more than welcome to speak with one of our team members about available financing as well as any other options that can help make the process to straighten teeth in Weatherford possible.
Invisalign FAQ's
What Does Invisalign Look Like?
Invisalign is designed with clear plastic, so it is difficult to detect when they are being worn. When maintained properly, patients can keep their aligners clean and discreet by preventing discoloration. Unlike traditional braces, Invisalign allows patients to achieve straighter teeth without compromising their appearance. In some cases, patients may require attachments, buttons, or elastics that may be more visible than the rest of the aligners, but for the most part, it will be difficult for others to tell that you are undergoing orthodontic treatment.
Does Invisalign Hurt?
Invisalign is not painful. Its smooth plastic design makes it one of the most comfortable orthodontic treatment options out there. When you first get your Invisalign, there will be an adjustment period where you may experience some soreness, but this will go away as you get used to the treatment. Invisalign works by gradually shifting your teeth into proper alignment by using a series of aligners. Each time you switch to the next set, you may experience some pressure, but this just lets you know that your treatment is working. To help with any discomfort, try taking over-the-counter pain relievers or using a cold compress.
Can You Eat with Invisalign?
One of the greatest advantages of Invisalign is that the aligners are completely removable, so you're able to take out your aligners when it comes time to eat. Eating with your Invisalign can cause damage to your aligners by cracking and staining them. It also puts unnecessary pressure on your teeth and can cause discomfort. The only thing that you should be consuming while you wear Invisalign is water. For everything else, take your aligners out and store them in a safe place.
Can You Get Invisalign After Braces?
This all depends on your specific needs. If your teeth have become crooked over time after you've already completed orthodontic treatment, Invisalign will likely be able to help to fix any new issues and align your smile. However, some misalignment issues are too complex to be fixed by Invisalign alone. Traditional braces can correct more severe overbites, underbites, and crossbites than Invisalign can. This is why many patients elect to get traditional braces until they can make the switch to Invisalign. During your consultation, we will be able to determine the best approach for your individual needs.