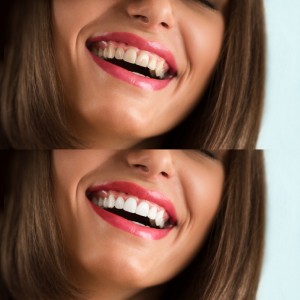 Everyone has tooth discoloration to a certain extent, but now advancements in dentistry allow you to restore the white appearance of your teeth with in-office teeth whitening. With Static Brain reporting over 82 percent of patients seeing a noticeable difference with professional teeth whitening, you'll turn back the hands of time with teeth whitening in Weatherford.

Do my teeth need whitened?
As we age, our teeth naturally experience discoloration; however, certain choices in life can cause our teeth to discolor quicker, such as smoking and drinking coffee. As your teeth yellow or darken, it adds to the age appearance of your teeth. Plus, it often causes you to lack confidence. At Cosmetic & Family Dentistry, we're here to see you smile with teeth whitening. In as little as an hour, you'll see a massive difference in the appearance of your teeth using our whitening gel and light.
In-Office Teeth Whitening
Teeth whitening is a non-invasive, simple procedure used to brighten teeth. While there are many home whitening products, only 63 percent of people see any type of improvement using the products. Home whitening products come in many forms, like toothpastes, rinses, and strips, but they are all generally ineffective and don't produce lasting results. This is why 88 percent of people choose professional in-office whitening. As a Weatherford dentist, we don't want to see you throw your money away on ineffective home whitening products, which is why we offer Sinsational Smile for professional teeth whitening.
What is Sinsational Smile?
Sinsational Smile allows you to receive professional teeth whitening in as little as 20 minutes. Our whitening system lifts stains and yellowing in minutes, not hours like other whitening treatments. After protecting your lips with Vitamin E, you'll wear comfortable silicon trays that contain the whitening gel. An LED light is shined into the mouth while you relax during the treatment. After the treatment, you'll see a huge improvement in your teeth's appearance.
Care After Whitening
While whitening is a simple treatment, your teeth will require a little care after they've been whitened to reduce future discoloration. For the first 24 hours, don't smoke, drink coffee, soda, or colored beverages that can stain the teeth. It's best to only eat "white food" like chicken and pasta to maintain the whiteness of the teeth. Basically, avoid anything that has the potential to stain teeth, including lipstick. You can minimize the contact of colored beverages by drinking though a straw.
After your teeth are whitened, you'll need to keep your teeth healthy. For two months, don't use any over-the-counter whitening products, other than the whitening pen we give you. You'll need to rinse your mouth after every meal to rid food staining residue. Don't forget to brush and floss regularly. It's not uncommon to experience a bit of sensitivity after having your teeth whitened, but this will subside within a couple of days.
With teeth whitening in Weatherford from Cosmetic & Family Density, you'll see a real difference in your smile in minutes.