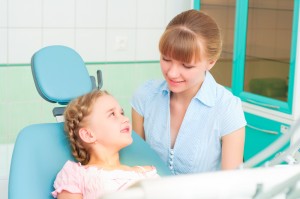 As a parent, you want what is best for your children in every facet of their lives. A great school, good friends, a nutritious diet, plenty of exercise – but what about their oral health? You make sure they brush their teeth and limit their sugar intake (both of which are important) but if you're like many adults in America, your busy schedule can often get in the way of regular checkups. At Cosmetic and Family Dentistry of Weatherford in Weatherford, TX, Dr. Deborah Romack and Dr. Garrett Mulkey make it easier than ever for you to keep up with your kids' oral health and development, offering a comprehensive array of children's dental services that fit your lifestyle.
The Importance of Early Dental Care
Regular visits to Cosmetic and Family Dentistry of Weatherford during early childhood help set the stage for lifelong oral health. Because Dr. Mulkey and Dr. Romack specialize in making your little one feel welcome and comfortable from the very start, the apprehension that many adults feel regarding the dentist never has a chance to develop. We make exams, x-rays and cleanings fun and engaging, always offering helpful tips for correct oral hygiene at home. Should your child need other services in addition to those included in a routine visit, we're sure to make the experience just as pleasant. Other children's dental services we offer include:
When it comes to your children and the dentist, we believe that the relationship should be a close and happy one from the first visit. You can rest assured in the knowledge that your children will be treated with the utmost of care and expertise when you visit Cosmetic and Family Dentistry of Weatherford.
Reliable, Gentle Family Dental Care
If you've been searching for comprehensive children's dental services you can trust in the Weatherford, TX area, look no further. At Cosmetic and Family Dentistry of Weatherford, we happily welcome all members of the family, offering complete cosmetic, general, restorative and orthodontic treatment. Contact our office today to schedule your children's dentistry appointment and see what a difference our dedication to patient comfort can make for your little ones. We also proudly serve the surrounding communities of Mineral Wells, Springtown, Aledo, Millsap, Brock and beyond. We can't wait to meet you and your family!