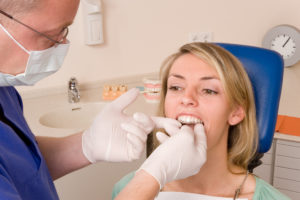 If you're thinking about starting an orthodontic treatment plan to align your smile, you want to take the time to consider all of your options. While a straighter smile usually leads to improved confidence and better oral health, getting there can be a real struggle if it means dealing with the hassles of bracket and wire braces. For many people, Invisalign alignment tray orthodontics just makes more sense. In this post, we'll talk about some of the many benefits of treatment with Invisalign and factors that can impact the cost of your treatment plan. For most people who choose treatment with an alignment tray system over traditional braces, the cost of either orthodontic plan will be comparable. Best of all, most dental insurance providers now offer the same coverage for bracket and wire braces and Invisalign, giving you the freedom to choose an orthodontic solution that fits your lifestyle.

Factors Impacting Cost
In most cases, your Invisalign orthodontics plan will be priced comparably to a traditional braces plan, but the best way to get an accurate estimate is to schedule a consultation appointment with your dentist. Some of the factors that impact the cost of your individual treatment plan include:
The number of aligners necessary to achieve the desired result
Patient noncompliance
Need for advanced procedures to align the entire bite
Benefits Worth the Investment
While Invisalign may cost slightly more than traditional braces, the benefits of this treatment option far outweigh the small additional cost. Some of the advantages of Invisalign treatment include:
Confidence – following the alignment of your teeth, you're much more likely to smile confidently in every situation, but with Invisalign, you can smile confidently throughout your treatment plan as well!
Oral health – teeth that are properly aligned are easier to care for, they wear evenly, and they allow you to consume all of your favorite foods without discomfort.
No hassle – throughout Invisalign treatment, you don't have to worry about many of the hassles associated with traditional braces, including struggling to brush and floss effectively around the brackets and wires, dietary changes, and frequent trips to the orthodontist. Simply remove the aligners during meals and cleanings and visit your dentist every six to eight weeks for short checkups.
Meet the Cosmetic & Family Dentistry of Weatherford Team
At Cosmetic & Family Dentistry of Weatherford, our team of skilled dentists and dentistry professionals truly go the extra mile to deliver a range of dental services to meet any patient's need, including Invisalign orthodontics. If you want to learn more about alignment tray braces or any of the other preventive, restorative, and cosmetic dentistry services we offer for patients of all ages, don't hesitate to call our dental office in Weatherford to schedule an appointment today. During your Invisalign consultation, we'll walk you through every step of the treatment process, costs, and available dental insurance coverage and financing options.