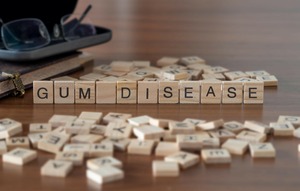 If you ask your dentist about the top threats to your oral health, chances are that gum disease will come up. This condition will only grow more severe over time if it isn't treated properly, and there's a very good chance that it could ultimately result in tooth loss. To keep your smile safe, it's important to learn as much about gum disease as you can in order to help you make informed decisions when dealing with it. Below are 4 gum disease facts that may surprise you.
1. Gum Disease is Often Silent in its Early Stages
There are many symptoms associated with gum disease, such as inflammation and bleeding gums. However, in the earliest stages of gum disease, there may not be any obvious signs that something is wrong. Consequently, many people end up not seeking treatment for gum disease at first simply because they don't even realize that they have it. As such, you should visit your dentist twice a year to give yourself the best possible chance of having gum disease caught before it can reach its advanced stages.
2. Gum Disease Can Cause Chronic Bad Breath
Does it seem like you constantly have bad breath even though you make a point of brushing regularly? In many cases, gum disease may be the cause. This is because the bacteria linked to gum disease can create sulfur-producing compounds that have a rather unpleasant smell. If you can't get rid of your bad breath no matter what you try, you should set up a visit with your dentist so that they can check to see whether you have gum disease.
3. Gum Disease Can Be Bad for Your Heart Health
Did you know that people with gum disease are about two to three times more likely to suffer from a heart attack, a stroke, or another type of cardiovascular issue? The connection may be due to the fact that bacteria in the gums can enter the bloodstream, allowing them to cause blood vessel inflammation and damage throughout the body. As such, having your gum disease treated could be an important step for minimizing your risk of heart problems.
4. Gum Disease Can Be Prevented
As frightening as gum disease can be, there are steps you can take to prevent it. For example, brushing and flossing at least twice a day will go a long way toward keeping bacteria levels in your mouth under control. You should also make sure that you're keeping up with your dental checkups and cleanings; your dentist and their team can remove any plaque and tartar deposits you may not have been able to remove on your own, thus further reducing the chances of gum disease occurring.
About the Practice
At Cosmetic & Family Dentistry of Weatherford, our team is continuing a long tradition of bringing local families comprehensive dental care that gives them every reason to smile. When it comes to treating gum disease, we can offer a number of solutions, including scaling and root planing, soft tissue laser treatment, and antibiotic therapy. To schedule a consultation at our office, visit our website or call (817) 594-3806.