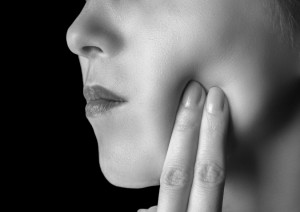 We love the holiday season — especially the foods and special beverages that are unique to this time of year. But if you've got really sensitive teeth, you're probably not looking forward to hot pumpkin pie or a nice, steaming cup of apple cider. Did you know there are some steps you can take at home to help strengthen your teeth against pain and sensitivity? Your Weatherford dentist wants your teeth to be strong and ready for the holiday season. Learn about what you can do to stop sensitivity today!
Ease Your Tooth Sensitivity With These Simple Steps
Tooth decay, worn enamel and a receding gum line can all cause your teeth to feel sensitive to hot or cold foods and beverages. The following can also result in tooth sensitivity:
Gum disease

Severe tooth decay

Plaque or tartar buildup

Tooth whitening products, like toothpastes, mouthwashes and at-home whitening treatments

Nighttime tooth grinding, or bruxism

Long term use of a hard bristled toothbrush
If you suspect any of the above are causing your tooth sensitivity, your dentist can help you figure out a successful treatment to help curb the issue. Remember that teeth are also the most sensitive between ages 25 and 30, so your hot and cold problem could subside naturally in a few years.
Good Oral Hygiene Prevents and Lessens Sensitivity
Because tooth decay and excessive plaque or tartar buildup can cause tooth sensitivity, maintaining excellent oral hygiene habits is crucial to preventing and reducing discomfort to hot and cold foods and beverages. Make sure you're brushing your teeth gently, using a soft bristled toothbrush for two minutes, twice a day, flossing daily and visiting your dentist every six months. These habits will go far in reducing the chance for decay and other infections, meaning you're more likely to have strong, beautiful teeth that last a lifetime.
Products that Reduce Sensitivity
Some special toothpastes and mouthwashes are excellent in helping to curb tooth sensitivity. These usually contain potassium nitrate or strontium chloride, ingredients that are excellent at shielding the enamel from those uncomfortable hot and cold sensations.
Visit Your Weatherford Dentist Today
If you feel like you've tried everything and are still suffering from tooth sensitivity, or if you know you need professional help in strengthening your teeth against discomfort, don't hesitate to schedule your appointment with Dr. Deborah A. Romack or Dr. Garrett Mulkey today! We're your trusted dentists in Weatherford, caring for smiles in our neighborhood and for all the surrounding communities. Call us today.