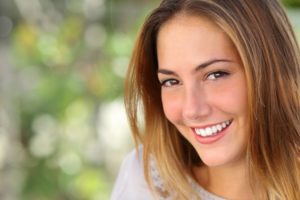 You take great care to protect your teeth from damage. You brush and floss properly while visiting your Weatherford dentist every 6 months for a cleaning and checkup. Despite your best efforts, your teeth can still suffer damage, like a chip or break. A weakened tooth can finally give way or trauma to the mouth can occur that results in a broken tooth. To restore its health and appearance, you will need to see a dentist. Now, advancements in dentistry provide you with multiple options that are effective while looking natural.

Direct Bonding
Direct bonding is a common and affordable means to repair minor chips, cracks, and breaks in teeth. A composite resin material is customized to match your enamel color so it blends in seamlessly so no one will ever notice the repair. In addition, the material is easily moldable, allowing it to be perfectly sculpted for the ideal appearance.
This treatment can be performed in just one appointment while providing results that will last for several years with the right care.
Porcelain Veneers
A dental veneer is a thin shell that is bonded to the front side of a tooth to cover cosmetic flaws, such as a chip. When they are made from porcelain, they offer a natural appearance while also being thinner to preserve as much of your natural tooth as possible. It can also be customized in color to match your enamel.
The treatment takes two appointments to complete but is worth the extra time as you gain high-quality results. Overall. The size, shape, proportion, and color of your tooth will improve with an option that will last 10 years or longer.
Dental Crown
If your tooth has suffered a significant break, you may require a dental crown to fix it. Not only will this restore its appearance, but its health as well. The custom-made cap is placed over your tooth to protect it from additional damage while restoring its health and function.
It will be made to match your exact specifications in terms of size, shape, and color to provide natural-looking results and the optimal fit so it will not hinder your ability to chew.
Repair Your Smile Today
Your dentist in Weatherford offers multiple solutions to repair damaged teeth, including those that have chips or cracks. After an initial consultation, your treatment options will be discussed to create a tailored approach to restore the health and function of your smile. Now, you will gain natural-looking results with a long-term solution using the best advancements in dentistry.
About Dr. Deborah Romack
Dr. Deborah Romack has been a trusted and reputable dentist since 1999. She has completed more than 1,000 hours of continued education to become well-versed in an array of dental aspects. In addition to general dentistry, she also specializes in cosmetic procedures to enhance the aesthetics of the teeth. If you have a chipped tooth, contact Cosmetic & Family Dentistry today to schedule a consultation with Dr. Romack to discuss your treatment options.