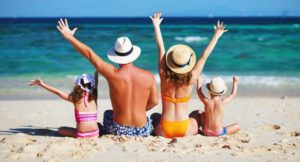 Emergencies can strike at any time, and dental emergencies are no exception. Maybe you slip at the pool and knock out a tooth. Maybe you chip a tooth while munching on some ice to stay cool. Maybe you're chewing on some sticky taffy and your crown gets dislodged. It's one thing for these situations to happen when you're at home and can visit your regular emergency dentist in Weatherford, but what should you do if you're out of town? Read on to find out.
Before You Leave
You can't completely prevent emergencies, but there are some things you can do to lessen their chances of occurring, such as:
Visiting your dentist for a checkup before your vacation
Checking the area to see if there are emergency dentists covered by your insurance
Packing the essentials like toothpaste, a toothbrush, floss, and mouthwash
Bringing a dental emergency kit, which you can find at most pharmacies
If you have an emergency on vacation, the first thing you should do is call a dentist. Let's talk what you can do in the meantime in a few common dental dilemmas.
Knocked-Out Tooth
See your dentist as soon as possible. Until then, try and place the tooth back in the socket. Be sure it's facing the right way. If you can't, put the tooth in a container of milk or a saltwater solution. The most important thing is to keep it wet.
Chipped or Broken Tooth
If there are sharp edges, bite down on gauze or place orthodontic wax in the area to protect the soft tissues in your mouth from being punctured. To relieve discomfort, take over-the-counter painkillers. Avoid chewing with the part of the mouth.
Lost Crown
Try and attach the crown by using a small amount of denture adhesive. Over-the-counter pain relievers may alleviate discomfort. Also, refrain from chewing on that side of the mouth until you can see your dentist and get the issue resolved.
Toothache
Persistent pain in your tooth may be the result of decay or damage, especially if the tooth is sensitive to hot and cold temperatures. In the meantime, take painkillers or use topical analgesics in the area. Chewing with that tooth could intensify your pain, so don't do it.
Any emergency dentist will gladly talk first aid with you over the phone and what you need to do until they can squeeze you in for an appointment. If something goes wrong with your teeth, don't hesitate to pick up the phone.
About the Practice
At Cosmetic & Family Dentistry of Weatherford, we help patients feel as comfortable as possible while receiving the quality care they need. If you call us with a dental emergency, we will do everything we can to see you on the same day, so you get the treatment you need ASAP. If you experience any of the emergencies listed above near Weatherford, TX, contact us at our website or call us at (817)-594-3806.