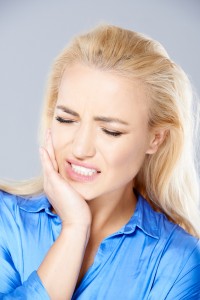 Do you often wake up in the morning with pain in your head, stiffness in your jaw, or chronic headaches that you simply can't explain? It's possible that you may be suffering from a common oral condition called TMJ disorder. Fortunately, Dr. Deborah Romack and Dr. Garrett Mulkey at Cosmetic & Family Dentistry in Weatherford, TX offer an extensive array of general dentistry services to patients just like you. We look forward to showing you how TMJ therapy can help you finally find relief from temporomandibular joint disorder.
The Importance of TMJ Therapy
There are a number of reasons that a patient might suffer from TMJ disorder, including malocclusion, injury to the jaw, and bruxism (teeth grinding). When the delicate joints and ligaments that connect the jaw to the cranium become irritated, the results can vary from a dull ache, sharp pain, and recurring headaches to ringing in the ears and muscle pain in the neck and shoulders. Many patients don't necessarily equate these symptoms with an oral health condition, but the fact is that your dentist is actually the most qualified medical professional to address a problem like TMJ.
Dr. Romack and Dr. Mulkey can help you find lasting relief from TMJ pain with a customized oral appliance, also sometimes called an oral splint or mouthguard. We'll take the time to sit down with you and discuss your individual symptoms, as well as our varying range of treatment options. Our goal is to make you as comfortable and well cared for as possible, and we're always here to answer your questions and address your concerns.
Enjoy Freedom from TMJ Pain
If you or someone in your family is suffering from the constant aches and pains associated with TMJ disorder, we encourage you to contact our office today to schedule your consultation with our caring team and experienced doctors. Our patient-centric approach and cutting-edge technology allow us to provide personalized, effective treatment plans that fit your lifestyle. Our conveniently located practice in Weatherford, TX happily serves patients from throughout the surrounding communities as well, including the areas of Brock, Aledo, Mineral Wells, Millsap, Springtown, and beyond.