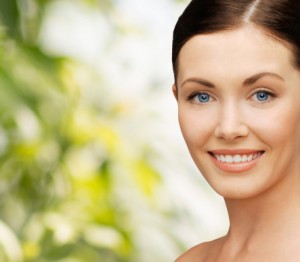 Got 20 minutes? Then you could have a whiter and brighter smile to show the world. Dr. Deborah Romack of Cosmetic & Family Dentistry in Weatherford, TX, offers the Sinsational Smile teeth whitening system for those patients looking for the quickest treatment available. On the other hand, if you prefer to go with a more traditional in-office teeth whitening system, our office also offers Zoom! as well as the option to use custom-fitted teeth whitening trays and gel for use at home. Whatever your preference, Cosmetic & Family Dentistry will help you reach a goal that makes you smile.
Teeth Whitening Reverses a Lifetime of Stains
Whether your teeth have yellowed and stained because of commonly eaten foods and beverages, such as tomato sauce, blueberries, coffee and colas, or if you are genetically predisposed to having teeth that yellow more as you age, teeth whitening can be the antidote to your less-than-white smile. No matter your time schedule, Cosmetic & Family Dentistry has the treatment for you.
1, 2, 3… White is What You'll See
The fastest system that our office provides is Sinsational Smile, the 20-minute solution for a brighter smile. While you wear special silicone trays that are filled with professional-grade gel, an LED shines in your mouth to speed the process. You go home with a whitening pen as part of your treatment.
Another option is Zoom! This popular method of teeth-whitening is also done in the office and uses trays, whitening gel and a special light. The light intensifies results, and you'll go home in about an hour with a whiter smile.
If you prefer to whiten in the comfort of your own home on your own schedule, then Cosmetic & Family Dentistry will produce a custom-fitted home whitening kit. You choose the method that suits you best.
Call for a Teeth Whitening Appointment Today
Ready for that whiter and brighter smile? Then call our office today. Cosmetic & Family Dentistry conveniently serves Weatherford, TX, Mineral Wells, Benbrook, Azle, Saginaw and White Settlement.