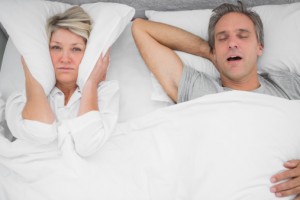 A good night's sleep is very important. Nobody likes to feel groggy or doubly exhausted after awaking. Sleep apnea is a disease that can keep you and your partner awake at night while also causing major health concerns. Sufferers of sleep apnea actually stop breathing for a few seconds when they deal with the disease. It's bad news anytime breathing stops. You kind of need to breathe in order to, you know, live. Take back your nights and start sleeping mores soundly when you visit our office in Weatherford, TX, you'll notice that we specialize in sleep apnea therapy. Are you ready to stop snoring and enjoy a night full of excellent sleeping? Dr. Romack and Dr. Mulkey are ready to help with sleep apnea therapy. For the best sleep apnea treatment, Weatherford can turn to Cosmetic & Family Dentistry for excellent service.

"How Do I Know If I Have Sleep Apnea?"
The most common symptom of sleep apnea is excessively loud snoring. We're talking snoring that sounds like a foghorn that could shake your home's foundation to its core. If it's that bad, we can pretty much guarantee your partner isn't getting any sleep. This can lead to problems in the bedroom, fighting and more. It isn't just a spouse or significant other that can suffer, you're health is hanging in the balance as well.
Other symptoms of sleep apnea:
Awakening with a dry, sore throat
Driving under a sleepy influence
A.M. headaches
Changes in mood
Insomnia
Though these are the most common symptoms, it's entirely possible you aren't suffering from sleep apnea and it could just be you. But, usually, these are the harbingers to sleep apnea.
How We Treat Sleep Apnea
Our services vary on how best to approach every patient's sleep apnea. Each situation is unique and presents certain challenges that we're happy to address. Traditional therapy has involved using intraoral devices that keep you airway free of obstructions, thus allowing you to breathe freely. Other devices, such as CPAP, are worn every night to assist in your breathing. We have the resources and knowledge to guide you down the appropriate therapy path. Your health is too important to be left hanging in the balance, which is why we're here to answer any questions and recommend professional treatment.
Sleep Soundly Again and Schedule An Appointment
The only way to treat this condition is with our help. We'll sit down with you to discuss your options for treatment, should you need any. We welcome all people to our Weatherford, TX office no matter where you hang your hat. For the best sleep apnea treatment Aledo, Brock, Millsap, Mineral Wells, and Springtown residents can enjoy, trust the experts at our office.