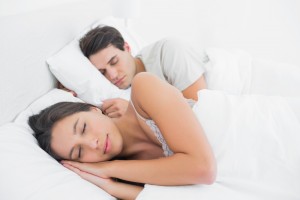 Snoring is admittedly a significant problem for many Americans, disrupting the nightly rest of family members and sleeping partners. This loud, intrusive noise, however, may indicate the existence of a more serious underlying problem such as sleep apnea. At Cosmetic & Family Dentistry in Weatherford, TX, Dr. Deborah A. Romack and Dr. Garrett Mulkey offer comprehensive solutions to patients with sleep apnea, substantially reducing their risk for related complications.
Why is Treating Sleep Apnea So Important?
Men and women who are affected by obstructive sleep apnea experience numerous periods throughout the night in which their airflow is restricted as they sleep. The sound we identify as snoring is actually caused by vibrations of the soft tissues in the mouth and throat as the patient attempts to take in breath. When a person's blood oxygen levels reach a certain point, the body and brain are considerably more susceptible to complications. Some problems associated with untreated sleep apnea include the following:
High blood pressure
Coronary artery disease
Respiratory distress and failure
Chronic daytime fatigue
Confusion, memory problems, and inability to focus
Complications following surgery
Persistent headaches
Circulatory problems
High risk pregnancies
Fortunately, the sleep apnea therapy services you'll find at Cosmetic & Family Dentistry of Weatherford can significantly lower your risk of developing these and other health issues. We want to help you and your family feel your very best, all while improving your overall health and wellbeing.
Get the Relief and Rest You Need
Whether you suffer from sleep apnea or your partner's snoring keeps you from getting the deep, restful sleep you need, Dr. Mulkey and Dr. Romack want to help. Contact our office in Weatherford, TX today to schedule your appointment and to find out how sleep apnea therapy can help you. Our conveniently located dental practice warmly welcomes families from Weatherford, Millsap, Aledo, Brock, Mineral Well, Springtown, and the surrounding areas. We look forward to helping you overcome sleep apnea and its effects, allowing you to finally enjoy a peaceful night's sleep.