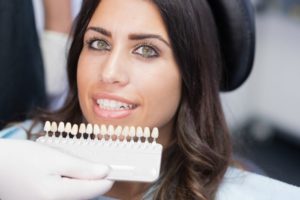 Cosmetic dentistry has made significant gains over the past couple decades. Not only can dentists shift the locations of your teeth, they can simply cover imperfections to make them look straighter. For patients looking for a quicker solution to large gaps in their teeth, you'll find these solutions from your cosmetic dentist in Weatherford to be quite effective.
Choosing your treatment depends on the severity of your gaps. Your dentist will give their professional opinion of the best method of treatment, so your smile can look beautiful once again.
Direct Bonding
Traditional bonding is ideal for fixing small gaps in between your teeth. You might think it only works for filling chips and cracks, but it can also improve the overall alignment of your teeth, making your smile straighter than ever. This putty-like composite resin can be easily applied to your teeth and molded into place. After applying, your dentist will use a special curing light to harden the resin in just a few minutes.
Direct bonding is seen as the most cost-effective solution due to the cheapness of the materials. Just make sure to take proper care of these cosmetics; with proper at-home care and regular checkups, you can expect them to last up to 10 years.
Porcelain Veneers
Veneers are a bit more substantial in terms of cosmetic treatment. They're wafer-thin porcelain sheaths that cover the surface of your most visible teeth. Before placement, your dentist will need to buff the tooth you plan on covering so they have room to place the veneer. Then they'll take a mold of your teeth to confirm the veneer matches it perfectly.
Prior to fabrication, they can shade the tooth to match the rest of your teeth. This will prevent the veneer from looking unnatural or causing the appearance of "chiclet teeth." Once the fabrication is complete, they'll take a small amount of bonding material and spread it on your tooth, followed by the veneer, effectively covering any gaps.
Porcelain Crowns
Similar to veneers, crowns are designed to cover cracks and imperfection in teeth. They're incredibly versatile, capable of covering and holding together teeth that wouldn't otherwise last. Typically, it takes a couple visits to fabricate and produce the crown, but you'll be surprised at how effective they are at covering gaps in your smile.
Orthodontics
If you're looking for a more permanent solution, there are two main forms of orthodontics available: traditional braces and Invisalign clear aligners. The method you choose will depend on the severity of your case, but both will fix and remove the gaps in your mouth regardless.
If you have severe spaces in between your teeth and don't mind wearing additional hardware, metal braces would be an ideal solution. However, if you:
Have more moderate spacing issues
Would prefer to avoid changing your image for professional reasons
Prefer to have the convenience of removing clear aligners for eating and brushing
Prefer a shorter treatment time
Then you might find more benefits from clear aligners.
A straighter smile might just be an appointment away. Learn the best treatment for you from your Weatherford dentist today!
About the Author
Dr. Deborah Romack earned her dental degree from Baylor College of Dentistry and has taken over 1000 hours of continued education on many dental treatments, including orthodontics. To learn about her many cosmetic treatments and practice, contact her at (817) 594-3806 or visit her website.