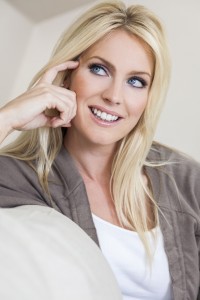 Healthy, white, and properly aligned teeth are widely considered to be the foundation for a beautiful smile, but not everyone is fortunate enough to be born with these features. Even if your teeth were once brilliantly white and perfect, it's possible that time and the elements have taken their toll on your smile as well. At Cosmetic & Family Dentistry in Weatherford, TX, Dr. Deborah A. Romack and Dr. Garrett Mulkey offer a variety of cosmetic dentistry solutions that enhance your smile, including porcelain veneers.
How Can Porcelain Veneers Help Me?
Over time, our environment and our actions lead to wear and tear on our bodies, and our teeth certainly aren't immune to this phenomenon. When your teeth are marred by cosmetic flaws like stains or chips, you become far less likely to share a casual smile or laugh freely with friends or coworkers. Fortunately, porcelain veneers can help you reclaim your carefree, luminous smile by covering common imperfections like these and others. Carefully crafted of ultra-thin porcelain, veneers are customized to fit your unique dentition. Problems that are solved with porcelain veneers include the following:
Deep stains and discoloration that do not respond to teeth whitening treatments
Cracks and chips in enamel
Gaps between teeth
Teeth that are misshapen or oddly sized
Mild to moderate crowding and misalignment
After just two visits to our conveniently located dental office in Weatherford, TX, you'll be finally showing off your gorgeous smile to the people who matter most.
Schedule Your Consultation Today
If you'd like to learn more about how porcelain veneers can help you smile with complete, natural comfort and confidence, contact our office today. From our family-friendly dental practice in Weatherford, TX, Dr. Romack and Dr. Mulkey happily serve patients from neighborhoods in the surrounding areas, including Aledo, Millsap, Brock, Mineral Wells, Springtown, and the surrounding areas. Discover the difference our skill, passion, and dedication to your oral health can make in your everyday life.