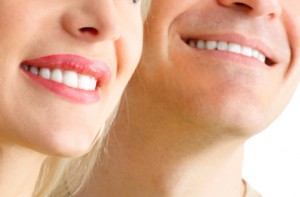 Here's a scary thought—Halloween is around the corner, which means not far behind is the holiday season. And with the holidays come holiday parties, family gatherings and many other occasions for celebrating. Are you ready to bring your best smile to the party? If not, then consider porcelain veneers from Cosmetic and Family Dentistry of Weatherford, TX. With this reliable cosmetic treatment, Dr. Romack and Dr. Mulkey can take your smile from drab to fab in only a couple of appointments.

Porcelain veneers, also called dental veneers, are designed to conceal almost any combination of cosmetic flaws including:
Worn and uneven teeth
Teeth that are chipped, cracked or broken
Yellowed and stained teeth that are not responsive to teeth whitening
Teeth that have large gaps between them
Slightly crooked teeth
Each of these imperfections, would normally require a separate treatment, such as crowns for worn or broken teeth and orthodontic braces for crooked teeth. Porcelain veneers, on the other hand, can correct all of these flaws.
For Porcelain Veneers, Aledo Residents Come to Weatherford
If you're thinking about porcelain veneers, then you'll want to schedule a consultation with Dr. Romack or Dr. Mulkey who will evaluate your oral health. Before veneers, we want to be sure that your mouth is in optimal condition and address concerns before beginning any cosmetic treatment. If you and one of our dentists decide that porcelain veneers are the right option for you, then you're on your way to a new smile. And speaking of a new smile, be sure to voice your opinion about the features you'd like your smile to have. In addition to considering your unique oral and facial features, we also want to hear what you want as we design veneers that are made especially for you.
Porcelain veneers treatment begins with x-rays, photos and impressions of your mouth and teeth. These are used to ensure the proper sizing and fit of your customized veneers. Then, we'll need to prep your teeth. This necessitates removing a minimal amount of enamel from the surface of the teeth that will be receiving veneers. Rarely does more than .5 millimeter need to be removed.
After prepping all of the teeth in your smile zone, we'll take another impression. This will be sent to our dental lab where your porcelain veneers will be carefully fabricated. While the lab is working on you veneers, you'll wear a set of temporaries that will protect your prepped teeth and give you a natural smile.
We usually receive your veneers back in the office within two weeks of your first appointment. Before your veneers are individually bonded to your teeth, we make sure the fit and color are perfect. Our dentists can precisely trim each veneer for a better and more seamless fit. The veneer is bonded with special dental cement that is hardened with a special curing light. When all of the veneers are in place, you'll have a new smile that is ready for many holiday parties for years to come.
Call Our Office Today
If you would like to learn more about porcelain veneers, or to schedule a consultation, then call Cosmetic & Family Dentistry in Weatherford, TX. For the best porcelain veneers Aledo, Brock, Millsap, Mineral Wells, and Springtown residents trust the experts at our office.