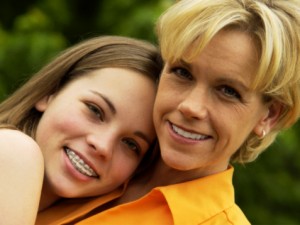 A healthy smile is about more than simply not having decay. At Cosmetic and Family Dentistry of Weatherford, we've helped patients of all ages achieve something else that's just as important — the straighter, more beautiful smile we all seem to desire. That's because in addition to being an excellent general dentist, we also provide high-quality orthodontics in Weatherford and Aledo.
A straighter smile does wonders for your confidence, but that's not all. Orthodontics can help you chew better, speak more clearly and smile more beautifully than ever. We're passionate about helping those in our community with their orthodontic needs — read on to learn about the orthodontic services we offer.

Complete Orthodontics
We're proud to say we're the only local dentist that offers complete orthodontics for children, teens and adults. From the initial spacers that create room for metal braces, to the post-braces retainers, we take care of everything to help you get that straight smile you want — and deserve. With the excellent general and orthodontic care you find at our office, we're truly a one-stop shop for all your dental needs.
Invisalign
Many of our adult and older teen patients want straighter teeth, but aren't exactly thrilled at the thought of traditional metal braces — and we think that's totally understandable. That's why we're happy to offer Invisalign, which are clear braces that move the teeth into the desired position quicker and far less noticeably than traditional braces.
Early Interceptive Functional Orthodontics
It may seem a little early to fit your young child with an orthodontic device, but because many problems are far more easily fixed at an early age — like a cross, under or over bite — we believe it's often the best solution. By using early interceptive functional orthodontics, we help your child avoid having to undergo more serious orthodontic treatments later on. In fact, with functional orthodontics, it's estimated that 80 percent of the procedure can be completed before the adult teeth are present.
Schedule Your Appointment Today
If you or someone in your family could benefit from orthodontic treatment, look no further than the place you already trust for your general dentistry needs — Cosmetic and Family Dentistry of Weatherford. We care about your and your family's teeth, and we want to make sure they're healthy, beautiful and strong now and for years to come. Schedule your appointment today.