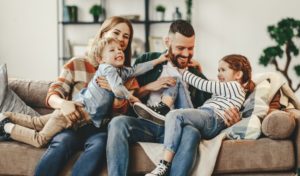 Everyone has unique ways of managing stress. If we're honest with ourselves, some are better for us than others. After a long day, it can be easy to lapse into easy habits that may not benefit you in the long run. With nearly everyone living in quarantine during the COVID-19 pandemic, these habits can easily become exacerbated.
Unfortunately, many, such as nail biting, smoking, and snacking, can have adverse effects on your oral health. Instead of constantly indulging them, your dentist in Weatherford has some suggestions on how to manage stress while maintaining your healthy smile.
Stress Habits & Oral Health
Many of the habits people develop to manage stress are based around short term gratification. It feels nice to have that extra glass of wine or another slice of pizza. While these are fine in moderation, they can impact both your oral and overall health if you partake in them constantly.
While certainly not an exhaustive list, some of the most common stress habits that can take a toll on your oral health are:
Nail Biting: Biting your nails can often be thought of as a way to concentrate. We've all seen TV shows featuring students biting their nails during a test or chomping away at them while waiting for results. Much like chewing ice, chewing your nails can harm your tooth enamel, leaving them more vulnerable to decay. Your nails can also have a great amount of bacteria beneath them. By exposing your mouth to that bacteria, you open yourself up to infection and periodontal disease.
Smoking: We can all remember an advertisement depicting the effects of cigarettes on your mouth. From stained teeth to advanced periodontal disease to mouth cancer, the risks one runs by smoking have been well-established.
Constant Snacking: When you're stuck at home, sitting behind a computer all day, it's very easy to snack. Not only is it tasty, it eases the monotony. However, by overeating or overdrinking, you're building up more and more plaque on your teeth. Without proper oral hygiene habits, this could lead to the development of gingivitis or gum disease.
Since most dental offices are only seeing emergency patients during the pandemic, maintaining your oral health has become even more important.
Building Better Habits
Changing your habits can be a difficult process. However, there are easily implementable alternatives that can help you to manage your stress while still focusing on your health.
The next time you feel stressed, you might try:
Choosing Better Snacks: If snacking is your vice, consider switching out salty or sugary foods for something healthier. For example, fibrous foods like apples and celery can help scrape plaque off of your teeth while you chew.
Exercise: The internet is filled with short, simple workouts that you can do at home without any equipment. Even a small amount of exercise each day can help to boost your mood and lower your stress levels.
Keep a Journal: Journaling is a simple process that can help you to put things into perspective. Often, writing about the things that are stressful can be cathartic and a way to relax.
There are many ways in which we can better handle stress. While some of your existing habits may be perfectly fine in moderation, developing new, healthier habits can not only help mitigate stress, but teach you more about yourself.
About the Author
Dr. Garrett Mulkey takes pride in the level of treatment that he provides for his patients. He takes the time to see each person as a unique individual and treats them accordingly. His comprehensive approach to dentistry allows patients to often get all the care they need in one place. Dr. Mulkey understands that living in quarantine is unprecedented. If you're interested in learning more healthy tips, he and his team are happy to correspond via email or you can call his office at (817) 594-3806.