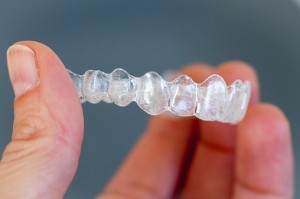 There's something cute about a little kid whose smile reveals a mouthful of metal braces. Not so much with an adult. And while as an adult you may not want to deal with the appearance of traditional braces, that doesn't mean you can't straighten your teeth. Cosmetic & Family Dentistry in Weatherford, TX, offers Invisalign for patients who want to straighten their teeth less noticeably than with metal braces.
Invisalign for Weatherford, TX, and Beyond
As the name implies, Invisalign straightens teeth almost invisibly. Invisalign uses clear plastic aligners to gradually and gently move your teeth into their proper position. At the start of your treatment, Dr. Deborah Romack or Dr. Garrett Mulkey will meet with you to discuss your smile goals. Then, with the help of photos, x-rays and impressions of your teeth, we'll create a treatment plan. This treatment plan will show you how your teeth will move, and it will also act as the blueprint that the Invisalign lab will use to fabricate your custom-designed aligners.
You're aligners will be organized in sets of two—one for the upper arch and one for the lower. You'll wear each set for about two weeks and then move on to the next set. As you progress through the series, you'll begin to see your teeth move into place. Of course, we'll want to see you throughout your treatment to monitor your progress. Most courses of treatment take about a year after which you'll want to wear retainers in order to maintain your new, straight smile.
Call Our Office Today
If you'd like to learn more about how you can straighten your teeth inconspicuously with Invisalign, call Cosmetic & Family Dentistry in Weatherford, TX, to schedule a consultation. We gladly serve patients from the surrounding communities of Brock, Millsap, Springtown, Mineral Wells, and beyond.