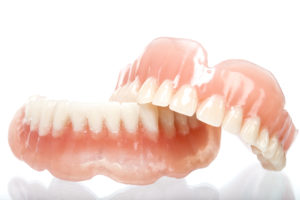 You may not realize this, but if you have recently begun wearing full dentures in Weatherford, you have joined a growing number of U.S. adults that have false teeth. In fact, according to the National Health and Nutrition Examination Survey, 57 percent of Americans ages 65 to 74 and 51 percent of those ages 55 to 64 have full or partial dentures. It is not uncommon for patients with new dentures to feel slight discomfort or irritation at first – but do not worry. Here are some helpful tips on how to minimize discomfort caused by your new teeth.
Adjust the Way You Eat
Making minor changes to what and how you eat can help relieve discomfort while you grow more accustomed to wearing dentures. Start off with soft, non-sticky foods and gradually work your way back up to eating regular foods. In addition, try to avoid relying too much on your front teeth and keep some food on each side of your mouth while you chew to stabilize your dentures.
Try a Dental Adhesive
Properly constructed dentures should be held in place by the tongue and cheek muscles, but it may take some time for those muscles to adjust to their new responsibility. For a short time after receiving new dentures, using dental adhesive can help your new teeth stay in place in your mouth. Be aware, however, that many dental adhesives contain zinc, which can lead to health problems if used for extended periods of time. Consult with your dentist in Weatherford about proper dental adhesive use.
Give Your Mouth a Rest
Take your dentures out of your mouth and place them in a denture solution to clean overnight while you sleep. Cleaning your dentures at least once a day prevents harmful plaque and bacteria from building up on them – and it also provides your gums and jaw an opportunity to rest and recover. Giving your mouth a break will help you wake up feeling refreshed and ready to tackle the day.
Don't Wait to See Your Dentist
While some initial discomfort from new dentures is common, if discomfort persists or you are experiencing serious dental pain, do not hesitate to call and set an appointment with your dentist. He or she will be able to determine the exact cause of the pain or discomfort and help you treat it accordingly.
New dentures often need to be readjusted, sometimes several times, before they will fit perfectly in your mouth. However, you should never try to adjust dentures on your own – leave that to a dental professional.
Adjusting to life with dentures will take some time, but before you know it you will be eating, speaking and smiling almost exactly as you were before getting your new set of teeth. In the meantime, follow the above steps to handle any discomfort and ease your way through the transition.
About the Author
A proud graduate of the Baylor College of Dentistry, Dr. Deborah Romack has been providing quality dental care with a personal touch in Weatherford for 20 years. Since 1999, Dr. Romack has taken over 1000 hours of continuing education, so she is up to date on the latest in dental health research and techniques. She can be reached via the Cosmetic & Family Dentistry website or by calling the office at 817-594-3806.