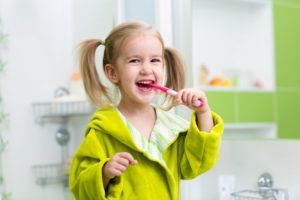 February has been set aside as National Children's Dental Health Month. As part of a coordinated effort, dentists around the country have joined forces to better educate parents on ways to improve their children's oral health. Read on as your dentist in Weatherford discusses the common oral health issues facing children and the best preventive care methods available.
The Most Prevalent Oral Health Issue Facing Children
According to statistics, the biggest challenge for children's oral health is cavity development. Cavities are brought on by bacteria that have been allowed to accumulate over time, which form plaque – a clear, sticky substance that clings to teeth and eventually bores holes in the enamel (the exterior, protective layer).
Why a Cavity Can't be Ignored
It's dangerous to ignore cavity development because it can lead to the greater issue of gum disease, which is also a growing condition among children. Along with causing tooth decay, the plaque can seep beneath the gumline and cause tenderness, red or pink spots, unpleasant breath or gums that bleed easily.
The Common Symptoms of a Cavity
By treating a cavity early, though, and then making the necessary changes in your child's diet and oral hygiene regimen, it's usually much easier to avoid gum disease. The first step to being restored is to be able to identify some of the common symptoms of a cavity:
Decreased appetite
Bouts of depression
Increasing sensitivity in a tooth
Inability to chew food normally
Prevention is the Key
One of the primary reasons for raising awareness during National Children's Dental Health Month is to prevent either of the above issues from developing. Here are some helpful tips:
Make toothbrushing a priority, and encourage your child to do so in the morning and before retiring for bed.
Encourage two-minute dental hygiene sessions to ensure the teeth are cleaned properly.
Consider having your child's permanent teeth coated with a protective dental sealant as soon as they emerge.
Encourage your child to drink plenty of water to help to flush his or her mouth and prevent the growth of bacteria.
Your Dentist is Your Ally
Also, don't forget that in the fight for excellent oral health for your little one, your pediatric dentist is your ally. Thus, you should be sure to schedule a visit every six months for preventive care.
Then, if there are any developing issues, they can be addressed before they mushroom into greater challenges.
Through a united effort, this can become the best year ever for your child's oral health!
About the Author
Dr. Deborah Romack is a graduate of Baylor College of Dentistry, and for over 20 years, she's provided comprehensive care to her patients. Throughout her career, she has taken over 1,000 hours of continuing education, which allows her to treat patients of all ages. Dr. Romack helps parents and children experience the best in oral health at Cosmetic and Family Dentistry, and she can be reached for more information through her website.