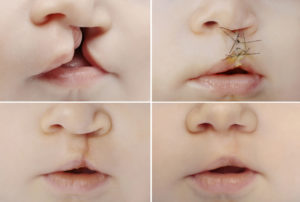 Expecting a new addition to the family soon? It's an exciting time, to be sure, but it's also a time to be aware of potential birth defects that could negatively affect your child's health and appearance. July is National Cleft and Craniofacial Awareness and Prevention Month, and your dentist in Weatherford is celebrating by making sure you're well-informed of the dangers of a cleft lip or a cleft palate.
What is a Cleft Lip or a Cleft Palate?
Normally, the lips and palate are sealed together before the child is born. However, orofacial clefts cause part of the face or mouth to remain split, creating a narrow gap. This results in a cleft lip, a cleft palate, or both.
What Can Cause Orofacial Clefts?
Unfortunately, the exact cause of a cleft usually isn't clear. Oftentimes, genetics seem to play a role; child is more likely to suffer from an orofacial cleft if a blood relative also had the same condition. Environment is a factor as well. Certain medications (such as methotrexate, commonly taken for cancer, arthritis or psoriasis) might also increase your risk.
Studies have shown that smoking during early pregnancy might cause orofacial clefts to form. For this reason, women who plan to become pregnant or have just become pregnant should give up cigarettes as soon as possible. In general, you should make sure you're in good overall health – for your baby's sake as well as your own.
What if Orofacial Clefts are Left Alone?
Clefts in the lip and palate aren't just a cosmetic problem. They can also present the following challenges for your child:
Eating problems: A split palate can cause various foods and drinks to pass from the mouth to the nose instead of towards the stomach. A special baby bottle might be required for feedings.
Ear infections: Fluids can build up in the middle ear, leading to infection and eventual hearing loss.
Speech problems: A cleft lip or cleft palate can make it difficult for children to speak clearly, and their voice might sound nasally. (Note that not all children will necessarily have such issues.)
Dental problems: Children with orofacial clefts are more likely to have cavities. They might also have missing, misshapen or displaced teeth that will require extra dental care or orthodontic treatment.
Can Orofacial Clefts Be Treated?
While there's no way to prevent a child from being born with a cleft lip or a cleft palate, surgery can be performed to help repair the damage. A cleft lip is relatively simple to treat; the surgery can initially be done when the child is 3 months old. A cleft palate will require more extensive work spread out over the course of 18 years. Over the long term, aesthetic problems will be corrected, and your child will be able to eat and speak normally.
If your child is born with a cleft lip or a cleft palate, talk with your dentist as soon as possible. They can educate you on your baby's oral health needs. Don't let a cleft lip or a cleft palate define your child's life!
About the Author
At Cosmetic and Family Dentistry, Drs. Deborah Romack and Garrett Mulkey believe in using dentistry to protect overall health. They educate parents – and prospective parents – about decisions that could negatively impact their children, such as smoking while pregnant. If you have questions or concerns about your child's orofacial clefts, contact their practice through their website or call (817) 594-3806.