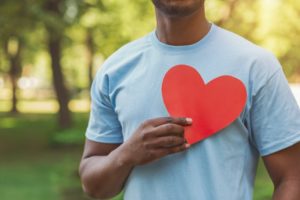 Did you know that the health of your heart is connected to your teeth and gums? When you take the time to take care of your mouth, you're also looking after the wellbeing of your cardiovascular system. Since February is American Heart Month in Weatherford, there's no better time to schedule your routine dental checkup and reduce your risk of developing serious medical problems, such as heart attacks.
Connecting Oral and Heart Health
Several recent clinical studies have determined a connection between gum disease and an increased risk of medical conditions, including heart disease. A study from 2014 discovered that participants who treated the symptoms of their gum disease had 10 to 40 percent lower cardiovascular care costs than people who didn't receive proper dental care.
Another published study looked at the link between gum and heart disease. They found that gum disease increases patients' risk of developing heart disease by approximately 20 percent. Towards the end of their study, they did state that more research needed to be conducted on this issue to determine a certain connection.
The same oral bacteria that are said to cause common symptoms of gum disease, like inflammation, are said to directly impact the cardiovascular and respiratory system when they accumulate out of control. After toxins released by harmful oral bacteria get into the bloodstream, they're able to travel to other parts of the body, causing inflammation in those areas as well as an increased risk of health problems.
Symptoms of Gum Disease
The key to treating and reversing the symptoms of gum disease in Weatherford is early detection. Once the disease has progressed to its more advanced stages, it can cause permanent oral damage such as tooth loss. Here are some common symptoms of gum disease that are important to keep an eye out for at home:
Chronic bad breath
Swollen and red gums
Sore gums that easily bleed when you brush or floss
Pain while chewing
Tooth sensitivity
Receding gums that make your teeth look longer
Pockets of pus-like material between your teeth and gums
Loose teeth or changes in your bite
At the first sign of any of these issues, it's important to contact your dentist so they can diagnose the issue and develop a customized treatment plan to take care of it before it causes additional damage.
Dental Checkups Benefit Your Overall Health
Many people aren't aware that their semi-annual dental checkups in Weatherford are an important part in maintaining their overall health. During your visit, your dentist will thoroughly examine your mouth for the early signs of gum disease and oral cancer. By doing this, they're often able to diagnose and treat serious problems before they have a chance to wreak havoc on your mouth and body.
When you visit your dentist every six months for a short and thorough oral checkup, you'll be taking necessary steps to protect the health of your heart. For American Heart Month, there's no better and easier way to celebrate than to pick up your phone and schedule your visit!
About the Author
Dr. Deborah Romack has been providing patients with high-quality dental care since she graduated with honors from the Baylor College of Dentistry in 1998. She takes pride in using the latest technology and techniques in her field to ensure that her patients receive thorough and precise treatments. She has also taken numerous advanced education courses in fields such as light laser therapy. For questions or to schedule an appointment for a thorough dental checkup and cleaning, visit Cosmetic & Family Dentistry's website or call 817-594-3806.