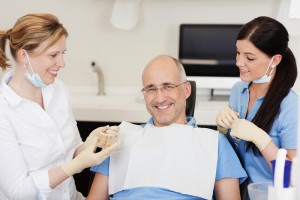 For many men and women, the thought of visiting the dentist only arises when something goes wrong. They notice a difference in the color or shape of their teeth, or they experience the pain of a persistent toothache. While it is true that unusual changes and oral discomfort are important reasons to see your dentist, the fact is that routine checkups every six months should be considered just as much of a priority. At Cosmetic & Family Dentistry in Weatherford, TX, Dr. Deborah A. Romack and Dr. Garrett Mulkey provide families from throughout the area with exceptional general and preventive dentistry solutions, including regular dental checkups and cleanings.
Why Schedule Dental Checkups if My Teeth are Fine?
Unfortunately, this line of thinking is what gets a lot of children and adults in trouble when it comes to oral health. If everything feels and looks fine, they think that it's all right to skip on their dental checkups. They continue to take care of their teeth at home as they normally would, putting off an appointment until something actually happens: a strange ache, or painful bump on the gums, or an increase in sensitivity when they eat or drink. These are all problems that may have been avoided with routine exams and professional cleanings.
The primary purpose of a routine dental visit is to assess the health of your teeth and gums. This brief time in the dental chair allows Dr. Romack and Dr. Mulkey the opportunity to inspect your mouth for early signs of problems before they become serious, destructive, and painful. The professional cleaning we perform eliminates more of the bacteria and plaque from the teeth and gum line to prevent decay and periodontal disease. Just two visits a year can keep most children, adolescents, and healthy adults smiling and feeling great.
Schedule Your Visit Today
Has it been more than six months since the last time you visited our office for a routine exam and cleaning? If so, the time to catch up is now! Our family-friendly dental practice in Weatherford, TX proudly serves patients from throughout communities in Springtown, Millsap, Mineral Wells, Aledo, Brock, and beyond. Contact us today to set up your appointment. We look forward to seeing your beautiful smile!