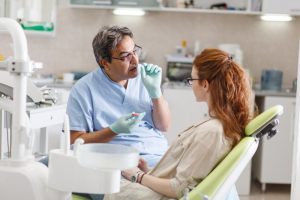 Are you tired of hiding your smile? If you have flaws and imperfections in your teeth, you may feel self-conscious about them. Fortunately, cosmetic dentistry can help restore your grin and confidence! From teeth whitening to porcelain veneers to direct bonding, there are many options available to meet your oral health goals and needs. But if you suffer from dental anxiety, you may be hesitant to seek treatment. Read on to learn from your cosmetic dentist in Weatherford how this branch of dentistry is more comfortable and less painful than you think!
Does It Hurt to Get Cosmetic Dental Work?
Some patients get nervous in the days approaching a dental procedure. If this sounds like you, don't worry – thanks to advancements in technology and sedation methods, cosmetic dentistry doesn't have to hurt!
Nowadays, most cosmetic dentists use less invasive techniques and preserve as much of the natural tooth as possible. Some even offer sedation dentistry for patients with severe anxiety. Rest assured, your cosmetic dentist will do whatever possible to give you a comfortable, pleasant, and safe experience.
What Can I Expect from My Treatment?
Several cosmetic procedures can help you achieve a perfect smile, although some are more invasive than others. Here's what you can expect from the following treatments:
Porcelain Veneers – It's considered a minimally invasive procedure since your teeth do require some preparation. During that first appointment, your dentist will offer you an anesthetic so you won't feel discomfort. When you return for your second appointment, there's no pain since it just involves adhering thin porcelain shells to the front surfaces of your teeth.
Dental Bonding – A composite resin is placed on your tooth and sculpted to disguise any flaws or damage. There's no drilling or trimming of your natural enamel, meaning you should experience no discomfort following this treatment.
Teeth Whitening –This is one of the most popular procedures and causes virtually no discomfort. The only side effect you may experience is tooth sensitivity which can persist anywhere from a few days to a few weeks following your procedure.
Aftercare Tips
One of the benefits of cosmetic dentistry is that most procedures have little-to-no recovery time! However, more invasive procedures like porcelain veneers will require a bit of aftercare. Following treatment, you may experience tooth sensitivity and tender, sore, or swollen gums.
You can alleviate any discomfort by:
Holding a cold compress over the area where you feel pain
Taking over-the-counter pain medication as needed
Diligently following aftercare instructions provided by your dentist
Rest assured, you can achieve your dream smile with minimal discomfort. Consult with your cosmetic dentist in Weatherford to discuss your options and start your journey towards a confident, picture-perfect grin.
About the Author
Dr. Garrett Mulkey earned his dental doctorate from Texas A&M and is a member of the American Dental Association. He has been enhancing smiles in the Weatherford area since 2002. He specializes in veneers, direct bonding, all-porcelain crowns, implant restorations, placement of mini implants for lower denture stabilization, full mouth reconstruction, and overall smile enhancement. If you are interested in cosmetic dentistry, you can ask any questions about treatments during a consultation. Schedule one on his website or call (817) 594-3806.