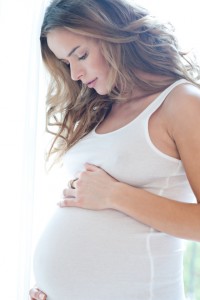 Congratulations! You're having a baby! This time in your life can be exciting and overwhelming all at once. It's important to take good care of yourself during your pregnancy and regularly visit all of your healthcare practitioners. Believe it or not, it's especially important to visit your dentist in Weatherford throughout your pregnancy. Here are the reasons why.
Periodontal Disease and Pregnancy
Because of the many hormone changes that take place throughout pregnancy, you are more susceptible to periodontal disease, or gum disease during this time. This may not seem like too big a deal, however periodontal disease can lead to tooth, tissue, and bone loss if it's not properly managed. A condition known as pregnancy gingivitis can occur, and this is actually the first stage of gum disease.
If you notice that your gums are red and swollen, or bleed when you brush your dentist may recommend extra cleaning appointments during your pregnancy to help you control the gingivitis. Excellent home care, with daily brushing and flossing is also crucial during this time. If you suffer from morning sickness and vomiting, your dentist can recommend a mouth rinse to help protect your teeth from harmful stomach acids.
Nutrition and Pregnancy
As you know, your nutrition is very important to you and your baby during pregnancy, did you know however, that your nutrition could affect your baby's developing teeth? It's true! Your baby's teeth will begin to develop around the third to sixth month of your pregnancy and you need lots of vitamin A, C, and D as well as protein and calcium to help your child's teeth develop properly. You will need to begin oral care for your child as well as soon as their first teeth erupt.
Communicate With Your Dentist
Let your dentist know that you're pregnant and exactly what trimester you're in. your dentist may want to wait on taking x-rays or performing dental treatment until you're further along in your pregnancy.
If you experience dental pain or an emergency contact your dentist right away. There are a lot of things that can be done for dental pain during your pregnancy even if you don't have treatment done immediately. Remember, the earlier you contact us if you're experiencing dental pain, the faster we can diagnose your situation and get you feeling comfortable again.
Dr. Deborah Romack and Dr. Garrett Mulkey are your premiere family dentists in Aledo, TX. At Cosmetic & Family Dentistry our team is here to support you through your pregnancy and beyond. We welcome patients of all ages to our practice and we look forward to helping you welcome your little one and serving their dental needs as well when the time comes!