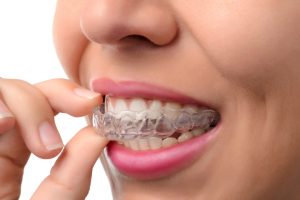 Do you have a crooked smile? Braces from Weatherford dentist,  Dr. Deborah Romack, treat more than your appearance. Crooked smiles can mean oral health problems. They should be corrected for the strongest teeth and gums possible. At Cosmetic & Family Dentistry, your dentist uses traditional orthodontics and innovative Invisalign aligners for great results.
Why Orthodontics?
The American Association of Orthodontists says that children should be evaluated for braces by the age of seven to understand how the position and function of teeth, gums and jaw bone are developing. Early intervention can utilize the flexibility of the young teeth and jaw to guide teeth into better positions. This concept is called early interceptive orthodontics.
While children benefit from orthodontics, the dentist maintains that older teens and adults can, too. People of all ages deal with self-image problems stemming from poorly aligned teeth and facial symmetry.  Plus, they suffer from health problems connected with crooked teeth and  bites–issues such as:
Speech deficits
Problems with biting and chewing
Headaches and ear pain
TMJ Dysfunction, a painful disorder of the jaw joint
Uneven and premature tooth wear
Increased dental decay and gum disease (crowded teeth are hard to clean)
Am I A Good Candidate For Braces?
Dr. Romack carefully evaluates her patients for orthodontic problems. She visually inspects how teeth bite together and how the upper and lower jaws function.  She looks for the common problems of:
Overbite
Underbite
Crossbite
Tooth rotation
Tooth tipping
Open bite
Gaps
Crowding
Partially erupted teeth
Impacted wisdom teeth
Congenital absence of teeth
Also, the dentist and her team take digital X-rays, impressions, and other imaging to formulate excellent care plans.
Types of Braces
At Cosmetic & Family Dentistry, the team offers metal bracket and wire braces and Invisalign clear aligners in Weatherford. Typically, children receive metal braces. Older teens and adults may qualify for innovative Invisalign aligners which are practically invisible and fully removable. Traditional treatment takes an average of two years and corrects most any kind of orthodontic issue. Invisalign works for mild to moderate cases and takes less time–approximately one year to 15 months.
With each kind of braces, patients check in with Dr. Romack every four to six weeks. Plus, all orthodontic patients, regardless of what type of appliances they wear, must be conscientious about oral hygiene–brushing twice a day and flossing daily. Some patients use special floss for braces, interproximal brushes and water flossing devices to keep teeth clean and gum tissue healthy.
Do Your or a Loved One Need Braces?
If they do, the best place for orthodontics is Cosmetic & Family Dentistry. Dr. Romack is a member of the International Association of Orthodontics. Additionally, she instructs other dentists in the practice of orthodontics. So, you can trust her expertise for your treatment plan.
Why not contact Cosmetic & Family Dentistry today for a convenient consultation appointment? Ask about our $300 off special.  A better-looking, healthier smile can be in your future.