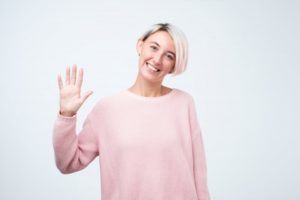 Social distancing has changed more than just what everyday life looks like—it's changed how the world says "hello." Previously normal ways of greeting each other like shaking hands and hugging are widely discouraged in order to prevent the spread of COVID-19. Thankfully, there are still plenty of ways to say "hi" and show your gratitude without any contact! Here are some recommendations from your Weatherford dentist for greeting others in the age of social distancing.
Why Anti-COVID Hellos Are Important
We know that the coronavirus is spread through infected respiratory droplets that can be dispersed when a sick person coughs, sneezes, or even breathes heavily. Once these particles come into contact with your mouth, nose, or eyes, the transfer is complete. While your hands themselves cannot absorb these particles, some studies have shown that the average person touches their face more than 16 times every hour. To keep your hands clean and follow social distancing guidelines, it's important to practice no-touch greetings until COVID-19 is no longer a threat.
The Best No-Contact Greetings
Thankfully, there are a wide variety of ways to communicate your friendly greeting with minimal contact. A few of the most popular include:
"Footshaking," which involves tapping your foot with another person's foot.
Placing your hand over your heart, like WHO Director-General Tedros Adhanom Ghebreyesus.
"Namaste," which is a traditional greeting in India that involves pressing your hands together and giving a slight bow.
Other common contactless greetings like the elbow-bump, air high-fives, waving from a distance, a head nod, and finger guns.
How to Practice Social Distancing at Your Dentist's Office
If weeks in quarantine have done a number on your smile, you may be eager to see your dentist. To ensure their patients are as safe as possible while they get the treatment they need, many new Weatherford dental safety protocols have been put into place, like:
Teledentistry: Instead of leaving your home to visit your dental practice, some consultations and follow-up visits can be done remotely via a secure patient communication portal.
Virtual waiting rooms: Instead of waiting for your appointment in a highly trafficked area of the office in close proximity to other patients, a virtual waiting room allows you to check in from the comfort of your car.
"No handshakes or hugs" policies: While dental staff love their patients, some practices have adopted a "no handshakes or hugs" policy for the time being. However, they are more than happy to use one of the above anti-COVID hellos to welcome you into the office.
The COVID-19 pandemic has changed many aspects of everyday life, but it hasn't changed the importance of a heart-felt hello! Keep yourself and others safe by using one of these anti-COVID greetings.
About the Practice
At Cosmetic & Family Dentistry of Weatherford, we prioritize the comfort and safety of our patients by offering relaxing patient amenities alongside state-of-the-art dental treatment. During the COVID-19 pandemic, we continue to put the best interests of our patients first by adding 24 additional steps to our already rigorous infection control procedures. If you need care for your smile after weeks of quarantine, you can feel confident that you're walking into a clean, healthy, and germ-free practice. If you'd like to know more about what steps we're taking to keep our patients and staff safe, feel free to contact us via our website or at (817) 594-3806.