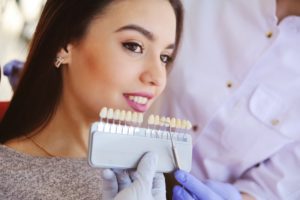 For quite some time, you've endured your imperfect smile and the lack of confidence that is associated with it. You even began to think that this was your fate and that you'd just have to settle for it. But a new day has dawned, and you've become aware that there are options available to you. One that really peaks your interest is porcelain veneers. And your local dentist explains why this is a route that you should definitely consider for perfecting your smile.
What are Porcelain Veneers?
The porcelain veneer procedure is primarily cosmetic, where thin strips of dental-grade porcelain are placed over your teeth to mask any imperfections. The process usually takes two office visits to complete and involves removing a thin layer of your enamel, and then adhering temporary veneers to your teeth. Meanwhile, your custom set is being crafted at a laboratory.
You'll receive your permanent veneers at your second visit, where your dentist will adhere them to your teeth using a bonding compound.
The Advantages of Porcelain Veneers
There are several advantages to getting porcelain veneers, including:
Aesthetics – Your new veneers will mask issues like slight misalignments, gapped or crooked teeth. They can also be used in cases of severe staining that cleaning, whitening and other procedures can't address.
Stain Resistant – Porcelain is a stain-resistant material. And practicing proper dental hygiene and abstaining from certain foods and drinks, like tomato sauce and wine, will further boost the longevity of your perfect smile.
Function – You can expect some improvement in functionality, especially if you have a gap in your front teeth, as it affects the way you chew food and your ability to pronounce certain words.
Why Your Smile Matters
Your smile matters because you're judged by it. Studies show that one-third of Americans say that teeth are the first things they notice about a person, and perceive people with straight teeth to be 45% more likely to get a job than those with crooked teeth.
More importantly though, is the way you feel about yourself. Other studies have proven by measuring hormone output that the better you feel about yourself, the better your overall health is. So you truly are what you think.
When you feel ready to take the big step and gain control of your destiny, your cosmetic dentist of Weatherford is available to guide you to where you should be – a place of confidence and happiness.
About the Author
Dr. Garrett Mulkey earned his undergraduate degree from Baylor University and then went on to receive his Doctor of Dental Surgery degree from the Baylor College of Dentistry. He specializes in veneers, direct bonding, all-porcelain crowns and several other procedures. He practices at Cosmetic & Family Dentistry and can be reached for more information through his website.