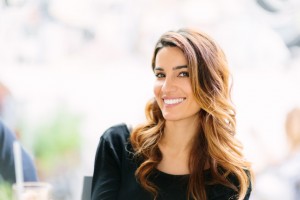 You've seen how dramatically porcelain veneers can transform a smile, and now you're curious if they're the right choice for your teeth. But it's a big decision — and where do you begin? Before you decide on veneers in Weatherford, as yourself these four key questions and feel confident you're making the right choice.
Are veneers the right cosmetic option for you?
If you answer "yes" to one or more of these questions, then dental veneers at Cosmetic & Family Dentistry in Weatherford might be just the right option for revealing your most beautiful smile!
Are your teeth chipped, cracked, stained or otherwise imperfect?
Dental veneers are ultra-thin coverings made of porcelain — and they work by completely covering the front surface of damaged teeth. They're securely bonded on to improve or restore dental size, color, shape and overall appearance. So if you're suffering as a result of your imperfect smile, veneers could be the enhancement you've been hoping for.
Are your damaged teeth in the front of your mouth?
Because the aim of porcelain veneers is to improve the appearance of teeth rather than their function, the solution is really only right for improving front teeth, or those that show when you smile. Damaged back teeth and molars may benefit from a dental crown or other restorative option, instead.
Are you in good oral health?
Patients should be in generally good tooth and gum health in order for dental veneers to be successful. Those suffering from tooth decay, missing teeth or who are in the advanced stages of gum disease are typically not good candidates for the treatment.
Are you ready to uncover your dazzling smile?
Of course, the number one indicator that you're ready for porcelain veneers is your enthusiasm to take the steps necessary to reveal your most beautiful smile. If you've always hesitated to flash your teeth, or if a new imperfection is slowly diminishing your smile confidence, then it's time for you to make a change — and porcelain veneers could be just the thing you need.
Interested? Schedule your appointment today!
If you answered "yes" to one or more of these questions, it's time for you to contact your Weatherford dentist to find out for sure whether porcelain veneers are the right option for you and your teeth. But even if they're not, we've got a number of other cosmetic services — and we're sure you'll find just the thing for you.