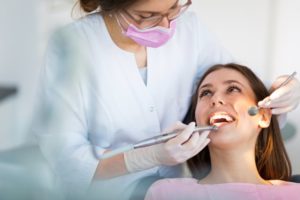 Imagine that you've woken up in the middle of the night with severe pain in your mouth. You've taken aspirin and tried to wait it out, but nothing will do the trick. You desperately want to make an emergency dental appointment but aren't sure what qualifications you should be looking for. There are many defining traits of a qualified emergency dentist. Read on to find out how to choose the right emergency dentist in Weatherford for you.
What Makes a Good Emergency Dentist?
Any dentist can be an emergency dentist in a pinch. However, that doesn't mean that all dentists have the same training and credentials. Some of the trademarks of experienced emergency dentists are:
Comprehensive Treatment Options: The last thing you want is to show up for your emergency visit only to find that the dentist doesn't treat your specific type of ailment. A skilled emergency dentist will have done extensive training to cover the gamut of dental emergencies they may face.
Same Day Appointments: While things may come up from time to time, emergency dentists will go out of their way to make sure that you get the treatment you need on the same day your emergency happens. Their main goal is to look at you comprehensively and get you out of pain as quickly as possible.
Special Training in Trauma or Emergencies: Many dentists do a year-long hospital residency after dental school. These dentists have often spent a lot of time in ERs, dealing with advanced dental trauma. Though it will be hard to tell if a dentist has done a residency simply by looking at their website, it is often easy to tell if a dentist does continuing education simply by looking at their bio page.
After-Hours Availability: Though emergency dentists need to sleep too, they will often have an answering service attached to their practice's phone number. That way, if you call after hours with an emergency, they can still be reached and get to you as quickly as possible.
Sedation Options: Emergencies are scary things, and many people have dental anxiety to begin with. Many emergency dentists provide multiple sedation options to keep you comfortable while they get you out of pain.
Looking for these indicators will put you on the right track towards finding the right emergency dentist to fit your needs.
How Can I Tell if My Dentist is an Emergency Dentist?
In the event of an emergency, you'll want to receive care as quickly as possible. Most people's first response would be to call their own dentist.
A simple approach to finding out if your dentist is a good choice in emergencies would be to look through their website and see if the factors from the previous section are mentioned. Or, simpler still, ask them during your next appointment what their approach is to treating dental emergencies.
Having the knowledge of what makes an exceptional emergency dentist is a valuable asset. It will help you to remain calm and make the right decisions in the event of an anxiety-inducing experience. Take a deep breath, keep a level head, and the right emergency dentist in Weatherford will have you smiling again in no time.
About the Author
Dr. Deborah Romack loves getting patients out of pain. A graduate of the Baylor College of Dentistry, she has completed more than 1000 hours of continuing education over the course of her career. It is important to her to provide the most comprehensive approach to dentistry for her patients, combining the latest technology and dental standards with decades of experience. If you think you may be having a dental emergency, she and her team are a call away at (817) 594-3806.