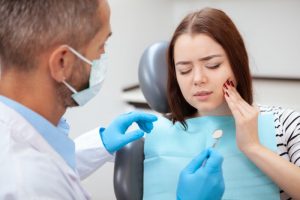 A knocked-out tooth. Unbearable tooth pain. A dislodged crown. Nobody wants a dental emergency, but unfortunately, it can happen at the most unexpected times. Knowing how to handle the situation and where to find help can make a difficult situation much more manageable! Here's how to find an emergency dentist when you need one the most.
First Things First: What Is a Dental Emergency?
Your mouth is one of the most sensitive areas of your body, so even minor issues can sometimes feel like an emergency. However, there are some common dental emergencies that will need to be seen by a professional right away. For example, a cracked or knocked-out tooth will require immediate attention, while a sudden toothache can be taken care of the following morning.
Other common oral emergencies include facial swelling, soft tissue injuries (like a bitten tongue), and a dislodged dental crown or filling. Be aware that potentially life-threatening symptoms, like difficulty breathing or a fractured jaw, will require you to go to your local ER right away.
If you're unsure whether what you're experiencing is a dental emergency, contact your dentist and explain the situation. They will be able to advise you on the best course of action to take.
Tips for Finding an Emergency Dentist
Handling a dental injury can be very stressful. Here are a few tips for finding an emergency dentist as quickly as possible to get fast, effective relief:
Reach out to your dentist: Your dentist may already provide emergency care, unbeknownst to you, and you may be able to make a same-day appointment. Also, even if you call outside of standard business hours, many dental practices have specific instructions on their voicemail about what to do in an emergency situation.
Use the ADA dentist locator tool: If you are out of town, using the American Dental Association's online tool can help you find a certified dentist close by.
Seek Recommendations: Ask family and friends if they have any recommendations for local dentists who offer after-hours services or same-day appointments.
Check online: Take advantage of directories, such as ZocDoc or DentalMatch, to find emergency dental care in your area. And of course, Google is always your friend by providing information in an instant!
Head to your local ER: If you are experiencing severe oral pain and are unable to get ahold of a dentist nearby, consider heading to your local ER. Although they likely won't have a dental professional on staff, they can help you manage the pain and ensure there are no other complications present.
Dental emergencies can be frightening, but by taking the right steps and knowing where to turn for help, you'll be able to manage the situation much more easily!
About the Practice
Cosmetic and Family Dentistry of Weatherford has an excellent team of dentists to help with any dental emergency with you and your family. They encourage you to call the moment you notice something doesn't feel right with your smile! With same-day appointments and advanced dental technology, they are equipped to help with any of your oral health needs. To make an emergency appointment, contact them through their website or call (817) 594-3806.