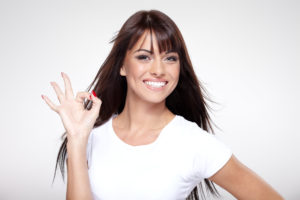 As we head into the new year, people are setting goals and writing down resolutions regarding how they will improve their lives in 2020. Have you been suffering from a lack of confidence due to dental imperfections? Take advantage of the new year to finally rejuvenate your smile and your self-esteem! Porcelain veneers in Weatherford can work wonders when it comes to transforming a person's smile, whether they have cracked, gapped or undersized teeth. But how many porcelain veneers would be right for you? Let's take a look.

What Are Porcelain Veneers?
Porcelain veneers are thin but durable sheaths that are bonded to the front of teeth to conceal and correct a wide range of dental imperfections. They are custom-made for each patient's unique smile and can dramatically transform a person's overall appearance.
Porcelain veneers may be the right cosmetic treatment for you if your smile is affected by any of the following defects:
Discolored or stained teeth
Slightly crooked teeth
Chipped or broken teeth
Misaligned or misshapen teeth
Undersized teeth
Gapped teeth
How Many Veneers Do I Need?
Because every smile is unique, there is no one-size-fits-all approach to veneer treatment. For example, some patients only want to close a prominent gap in their smile, which often can be accomplished with just two porcelain veneers. Meanwhile, other individuals want to transform their entire smile and thus may need up to ten or even twelve veneers. In addition, some people naturally show their lower teeth when they smile, while others do not.
How many veneers you need can be determined during an initial consultation with a cosmetic dentist in Weatherford. During this visit, your dentist will take photos of your smile from multiple angles. By looking at the complete picture of your smile and discussing your specific smile goals, your dentist will be able to recommend the perfect number of veneers to achieve the look you desire.
The Benefits of Porcelain Veneers
Porcelain veneers in Weatherford are a popular cosmetic treatment for good reasons! Their many benefits include:
Brighter smile – A full set of porcelain veneers can make your smile several shades whiter! In addition, veneers are naturally resistant to staining from coffee and other dark foods and drinks.
Natural appearance – Veneers can be matched to the shape, size and color of your natural teeth, allowing them to blend in seamlessly with the rest of your smile.
Immediate results – There is no recovery period for porcelain veneers, meaning you can continue on with your day immediately after the placement procedure.
Long-lasting solution – With proper care, porcelain veneers typically last 10 to 15 years.
Don't go through another year without a confident smile. Talk to a cosmetic dentist in Weatherford today about how porcelain veneers can rejuvenate your teeth.
About the Author
Dr. Deborah Romack has helped Weatherford residents achieve the smiles of their dreams for over 20 years. Since graduating from the Baylor College of Dentistry, she has taken well over 1000 hours of continuing education courses in order to stay up to date on the latest dental care techniques and technology. More information on porcelain veneers in Weatherford and other cosmetic dentistry treatments can be found at the Cosmetic & Family Dentistry website or by calling 817-594-3806.