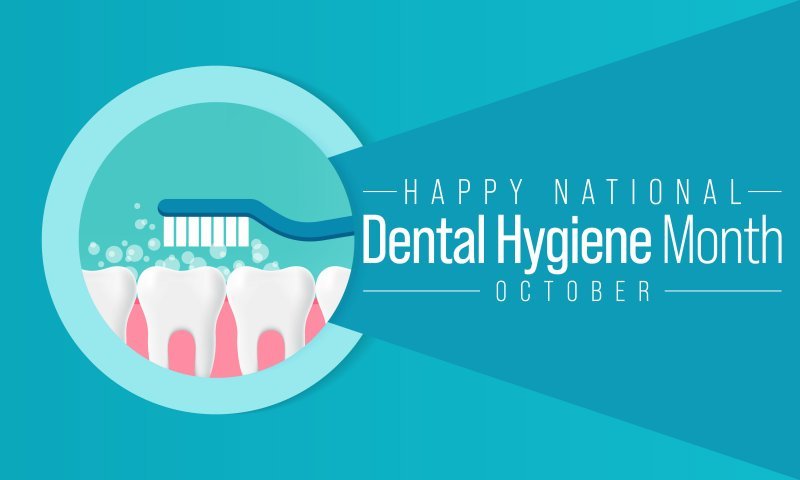 It's October now, meaning kids and adults are prepping for Halloween. After all, you're never too old to enjoy a spooky season of sweet treats! Ironically, though, we're also in the middle of National Dental Hygiene Month. That said, you might want to celebrate your teeth before chowing down on candy corn. In particular, use this October to build good dental habits. To learn how to do so, read over these oral hygiene tips from your Weatherford dentist.
Brush Your Teeth Properly
As it turns out, how you brush is an important part of oral care. In fact, a poor job of brushing is almost as bad as not brushing at all! For one thing, it could leave plaque on your teeth that causes tooth decay and cavities. The sticky bacteria film can then trigger tartar buildup and even gingivitis.
To keep such problems at bay, pay attention to your brushing technique. Take your time, and move your toothbrush in gentle, circular motions over each tooth.
Brush Before Bed
In general, dentists recommend that you brush your teeth twice daily. Even so, many people neglect the habit at night. For whatever reason – boredom, fatigue, etc. – they'd rather hit the hay than spend a few minutes cleaning their pearly whites.
Even so, you really should practice bedtime brushing. The act gets rid of germs and plaque that accumulate throughout the day.
Use Fluoride Toothpaste
You might think any toothpaste will do, but your chosen brand does matter. Some are more flavorful but less helpful to your enamel.
Given this fact, make sure your toothpaste has fluoride. The latter substance fights off germs that cause tooth decay. Plus, it acts as a protective barrier for your teeth.
Floss Once a Day
Even if difficult or annoying, daily flossing is just as essential as toothbrushing. Besides removing stuck food debris, it also stimulates your gums, reduces plaque, and lowers nearby inflammation.
Therefore, try to floss at least once a day. You could even try ready-to-use flossers from your local drugstore to make things easier.
Even as you get excited about the 31st, try to follow the tips above for a few weeks. That way, you can make Halloween night into a sweet reward!
About the Practice
Cosmetic & Family Dentistry is based in Weatherford, TX, and has served its community for over 65 years. As led by Drs. Mulkey, Decker, and Romack, the practice continues to provide high-quality dental care. In other words, we offer preventive, cosmetic, and restorative dentistry, including emergency care. Our office is also a certified provider of both traditional braces and Invisalign clear aligners. For more information or to book an appointment, reach us at our website or by phone at (817)-594-3806.