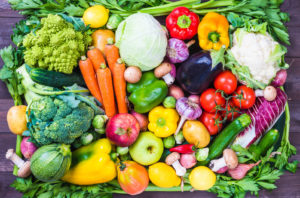 Most people know that daily brushing, flossing and visiting a dentist every six months are the pillars of maintaining a healthy smile. However, did you know that the food you choose to put on your plate every day also impacts your oral health? It's true! When it comes to preventing cavities, gum disease and other oral health issues, not all foods and drinks are created equal. March is National Nutrition Month in Weatherford, so there is no better time than now to explore dietary tips to boost your oral health.

What Foods Promote Oral Health?
Eating a healthy, balanced diet is an important part of taking care of your smile. Here are three natural vitamins and minerals you should try to regularly include in your meals:
Calcium is an essential mineral that strengthens enamel, the protective outer layer of teeth. Calcium-rich foods that promote strong teeth and bones include milk, cheese, yogurt, canned salmon, almonds, dark green leafy vegetables, fortified soy drinks and tofu.
Phosphorus is an important mineral that works with calcium to build strong, healthy bones and teeth. Foods with high levels of phosphorous include fish, lean meat, dairy, eggs, nuts and beans.
Vitamin C helps develop and maintain healthy gums and protect against gum disease. In addition to citrus fruits like oranges, tomatoes, peppers, broccoli, potatoes and spinach are all good sources of Vitamin C.
How to Snack Smart
Snacking in between meals may help you fight hunger – and boredom – throughout the workday, but it can actually end up harming your teeth. Every time you eat, the bacteria in your mouth breaks down the tiny bits of food and produces acids. These acids weaken tooth enamel, which makes it easier for cavities to form.
Snacking throughout the day produces multiples waves of acid that attack your teeth, so try to stick to eating just three meals a day. Why is eating a full meal better than snacking? The body produces more saliva when eating a meal, which washes away food particles and neutralizes acids in the mouth.
If you cannot break the snacking habit, at least substitute sugary treats for healthier options, such as:
Trail mix
Bananas, apples or carrots
Cheese sticks
Yogurt
Substitute Water for Sports Drinks
Brightly-colored sports drinks are a popular way to rehydrate after playing sports or working out at the gym. However, be careful not to consume these types of drinks too casually. A recent study published in the Journal of the American Dental Association found that a majority of sports drinks are acidic and "highly erosive" toward teeth.
Reach for a glass or bottle of water instead! In many communities, water straight from the tap contains fluoride, a naturally-occurring mineral that strengthens teeth and reduces the risk of tooth decay.
A healthy smile and a healthy body go hand in hand. Treat this year's National Nutrition Month in Weatherford as an opportunity to start new mouth-healthy habits by following the dietary advice above.
About the Author
Weatherford residents have turned to Dr. Deborah Romack for quality dental care for over 20 years. The proud Baylor College of Dentistry graduate has taken over 1000 hours of continuing education courses and is always happy to share the latest preventive care advice with her patients. For more information about nutrition and oral health, visit the Cosmetic & Family Dentistry of Weatherford website or call Dr. Romack at 817-594-3806.