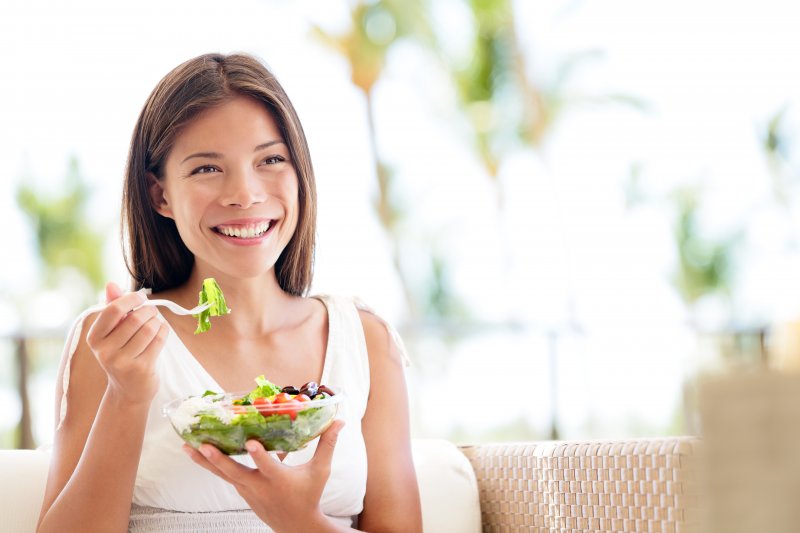 One of the nice things about dental implants is that they can actually merge with the jawbone, affording them an incredible amount of stability. This also makes them feel incredibly realistic—you can expect to chew with, talk with, and clean your dental implant in virtually the same way you did with your natural tooth.
Dental implants are shockingly close to being just another part of your body, and just like any bone or limb, there are lifestyle choices you can make to support your implants. Here are a few examples.
Improve Your Diet
One of the major things worth considering when you're thinking about the health of your dental implants is the quality of the bone tissue that holds it in place. Making your dental implant sturdier involves improving your bone health, which can be done through a healthier diet.
Both calcium and vitamin D are critically important to bone health. If you think you may need more of these nutrients, try working these foods into your diet:
Milk, cheese, and other kinds of dairy
Leafy greens
Tofu and other soy products
Nuts
Fortified orange juice
Fortified grains
Oily, fatty fish
Quit Smoking
One of the biggest indicators for implant failure is smoking and nicotine use more generally. Not only does tobacco smoke cause damage to the gums and teeth, but nicotine is also a vasoconstrictor that can reduce blood flow to the mouth. As a consequence, your gums and bones may not be quite as strong as they could be otherwise.
It's usually strongly recommended that you quit smoking for at least two weeks before and 90 days after the dental implant surgery. If you've managed to pull that off, you might as well try quitting for good.
Keep Up With Dental Hygiene
Finally, and maybe most importantly, you need to make sure that your gums and jaw stay free of infection. Severe gum disease can potentially begin to attack the jawbone, causing a condition called peri-implantitis that can potentially put your dental implant at risk.
Thankfully, it's fairly easy to stave off this level of gum disease. All you need is solid dental hygiene—brush your teeth twice a day, floss daily, and be sure to see your dentist twice a year for regular cleanings.
About Our Practice
Welcome to Cosmetic & Family Dentistry of Weatherford! We've been helping members of our community smile for over 65 years, and we work hard to carry on the tradition of exceptional comprehensive dental care. No matter how complex your issue is, our team of dental experts can guarantee that you'll be able to get the help that you need.
If you have any questions about dental implants, we can be reached at our website or by phone at (817) 594-3806.