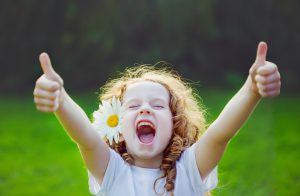 Yes, the warm weather is here, and so is summer vacation for your kids. Parents, it's the perfect time to bring the family to Cosmetic & Family Dentistry where your Weatherford children's dentists, Dr. Deborah Romack and Dr. Garrett Mulkey, will treat your little ones and teens just as if they were their own. Prevention, restoration and orthodontic correction–these services keep smiles bright and healthy in the summer and throughout the year.
What could go wrong with kids' teeth?
The answer is plenty, and that's why Dr. Romack and Dr. Mulkey like seeing children by the age of 3. As with all preventive dentistry, the doctors want to avoid dental problems before they occur, or if they do happen, treat them while they are small and uncomplicated.
Take, for instance, tooth decay. The National Institute of Dental and Craniofacial Research says most kids between the ages of 2 and 5 have at least one cavity. Although these are just baby teeth, their health is important as tooth decay in kids can lead to:
Pain

Abscess

Tooth loss

Tooth mobility

Dental misalignment

Speech and eating problems
Baby teeth play an important role in the development, eruption and alignment of baby teeth. Unfortunately, many little ones get "baby bottle" decay, as milk or juice pools around teeth and gums at bedtime.
Children get gum disease, too, if oral hygiene at home is insufficient and if kids don't get semi-annual cleanings with their children's dentist in Weatherford. Sticky plaque and tartar decay teeth, and also collect at the gum line, causing inflammation characteristic of mild gingivitis and more serious periodontitis. Gentle plaque and tartar removal, along with tooth polishing, are jobs for your friendly hygienist at Cosmetic & Family Dentistry in Weatherford.
What happens at a check-up
Most Weatherford  children's dentists like to see little ones by age 3 to check on the development of baby teeth and bone structure. The doctor looks at teeth and gums, counting them and inspecting for bite, alignment,  decay or gum issues. He or she also looks for jaw development and function.
A child's exam includes periodic digital x-rays as needed. Depending on the doctor's findings, a treatment plan may include:
Restorations such as tooth-colored fillings

Plastic sealants and/or fluoride treatments to protect against cavities

Orthodontics (traditional metal wire and bracket braces, or Invisalign clear aligners for teens)

Teaching on good oral hygiene habits and on mouth protection during sports

Suggestions for a healthy, tooth-friendly diet
It's the good old summertime
Invest a little of the best season of the year into your children's oral health. Contact Cosmetic & Family Dentistry to schedule exams and cleanings for your kids and for you, too. We have ample appointments to accommodate busy families.