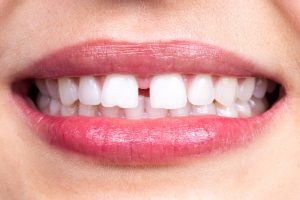 Having a perfectly uniform smile has become part of today's common beauty standards. Imperfections like a gap right in between our two front teeth can leave us feeling self-conscious or less than worthy. This kind of space (called a diastema) is usually considered an aesthetic concern and not a huge health issue. Regardless, anxiety over flaws in our grin can affect our mental and emotional well-being. Fortunately, cosmetic dentistry has solutions that can help! Keep reading to learn about 3 treatments that can repair your diastema.
Method #1: Bioclear Bonding
This type of dental bonding involves wrapping the tooth with a heated composite resin. Specially shaped instruments are then used to hold the material in place and reshape it. Your dentist can use this treatment to slightly reshape your front teeth to eliminate the hole between them. The results of this process look completely natural and can last for 10 years or more.
This can all be completed in one appointment without any prep work, making it a great choice for patients who may be looking for non-invasive options.
Method #2: Direct Bonding
Your dentist can also address that pesky space between your teeth with direct bonding. With this treatment, they use a putty-like composite resin to fill in any cracks or unwanted openings. They then harden it with a special curing light so that in just a few minutes, the issue is fixed! This is one of the easiest and most cost-effective treatments cosmetic dentistry offers.
Method # 3: Porcelain Veneers
Dental veneers are a thin, tooth-colored shell that's bonded to the front of your pearly white. Made of durable porcelain, they hide visual flaws in your teeth while simultaneously protecting and reinforcing them. They are customized to match the shade of your smile so that once placed, they're unnoticeable from the real deal.
Keep in mind that for veneers to line up correctly, your dentist has to remove a small amount of enamel. They'll use special instruments to gently whittle away a layer no thicker than a contact lens. Then, once in place, veneers can last up to 30 years. That makes them a fantastic lifelong solution to get rid of the gap in your teeth!
Thankfully, that small space between your front teeth doesn't have to be a permanent fixture. Call your dentist today, and soon you'll be on your way to a perfect smile that lasts.
About the Practice
Our dentists at Cosmetic & Family Dentistry of Weatherford believe that how you feel about yourself is just as important as your oral health. They take pride in providing patients with beautiful smiles meant to last. If you're frustrated by gaps in your teeth and would like to make an appointment, you're welcome to contact us on the website or by calling (817) 594-3806.