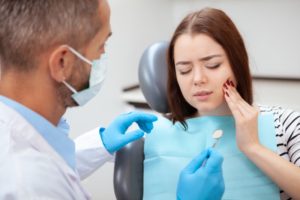 When a dental emergency occurs, the last thing on your mind is money. All you can think about is the pain and how to relieve it as quickly as possible. That is until you sit down with the dentist and learn which treatments are necessary to fix the problem. How do you know if you're covered? What should you do if you're not? Let an emergency dentist in Weatherford put your mind at ease by explaining a few of the most common injuries and what you can expect when it comes to your out of pocket expenses.
What Are Some Common Dental Emergencies?
It is likely that if you are facing a dental emergency, it will fall under one of the following categories:
Toothache
Chipped/Broken Tooth
Knocked-Out Tooth
Lost Filling or Crown
These are often the most common types of accidents that can occur to the mouth. They are also easy to handle while at home and waiting to see your dentist. If you're unsure how to deal with these types of situations, your dental team is happy to be of assistance. By calling to alert them of the situation, they will walk you through step-by-step what you can do to get relief from any pain as well as reduce swelling and prevent further harm to the affected area.
Just remember, panicking will do more harm than good, so try to stay calm and think clearly about what you need to do to de-escalate the situation and get the help you need as soon as possible.
Will You Be Covered Should an Accident Occur?
The answer to this question depends on the type of dental insurance you have, and which restorative treatments are necessary to repair your smile. During your appointment with your emergency dentist, they will go over various treatment options as well as pricing to help you better understand what is covered and not covered under your plan.
If you're unsure how to read your policy or do not know if your insurance will cover any or all of your restorative care, a member of the dental team will be happy to work on your behalf to get you the answers you need to make a decision about your treatment.
You can count on your dentist and their staff to help you maximize your dental plan and keep your out of pocket costs as low as possible in order for you to receive the emergency care you desperately need.
About the Practice
At Cosmetic & Family Dentistry of Weatherford, our dental office has been serving the community for almost 60 years! Offering comprehensive family dentistry, our dentists, Dr. Deborah Romack and Dr. Garrett Mulkey, and expert dental team offers one-on-one service. Have a dental emergency and need assistance? We can provide same-day appointments to address serious and immediate concerns as they pertain to your teeth, face, and soft oral tissues. To learn more about how we can help you in an emergency, visit our website or call (817) 594-3806.