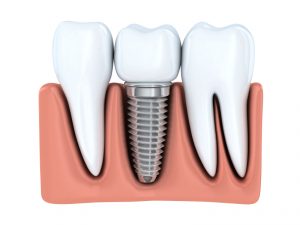 When you are missing one or more of your teeth it presents many challenges on a daily basis. You may feel self-conscious about talking or smiling in front of other people, which takes its toll on your confidence. Eating the foods you normally enjoy becomes more difficult, which results in changes to your diet and nutrition. Did you know that your missing tooth also affects your oral health?
Without a replacement, your missing tooth is actually compromising the health of your remaining teeth and also your jawbone. A dental implant may be the solution you're looking for, and the good news is that Dr. Deborah Romack and Dr. Garrett Mulkey are your one stop for dental implants in Weatherford.
What is a Dental Implant?
An implant replaces both your root and your tooth, ensuring the health of your remaining teeth and jawbone. Your new root is made of titanium and will integrate over time with your bone. This creates a stable foundation for your new tooth, which is a crown made of high quality porcelain that is custom designed to match your existing teeth.
The benefits of dental implants are many, but the success lies in the fact that both your tooth and root are replaced. The titanium root will keep your jawbone healthy and stimulated, which protects it from losing density or resorbing. Your new crown protects your healthy teeth from shifting into the open space, putting them at risk for fractures and damage.
Am I a Candidate For Dental Implants?
Dental implants do require that the patient be in good overall health and that they have enough healthy bone structure to support the implant. The best place to start is with a consultation with your dental provider. Through x-rays and a thorough examination your dentist can determine if dental implants are the right option for your needs.
At Cosmetic & Family Dentistry, Dr. Romack and Dr. Mulkey have been replacing missing teeth for patients with dental implants for decades. The best news is that both doctors have had advanced training and are able to both surgically place and restore your implant in the comfort of our office, so you will be surrounded by the team that you know and trust. It's comforting to know that our team will guide you through implant treatment from start to finish.
If you've struggled with missing teeth, don't let it hold you back any longer! Contact our office to learn more about how we can restore your smile and your confidence.