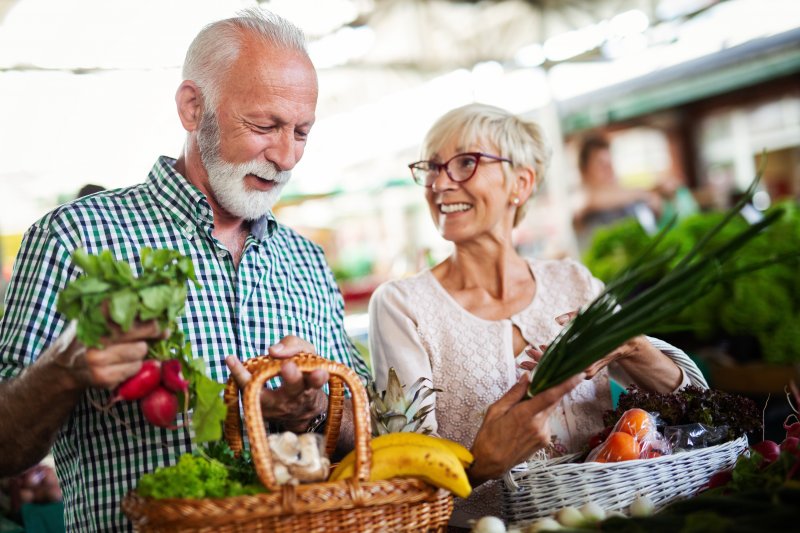 Dentures are one of the most popular and effective treatments for replacing missing pearly whites. With these restorations, you'll be able to enjoy a full and functional smile again. However, you'll still need to watch what you eat while wearing your new teeth, which can negatively affect your overall nutrition. Read on to learn about the impact dentures have on your diet and how you can benefit from dental implants!
Nutrition & Dentures
To maintain a well-balanced diet, you'll need to be able to eat a wide range of nutrient-dense meals. These may include lean proteins, fresh fruits, veggies, whole grains, and dairy products. While dentures may restore your full smile, they don't always offer sufficient biting power to enjoy healthier food options. Researchers from the Regenstrief Institute and Indiana University School of Dentistry found that those with dentures experienced a significant decline in their nutritional health compared to those without them.
What Can Cause Nutritional Deficiency?
Patients who wear traditional dentures may only regain around 25-30% of their biting power. This means they won't be able to munch on certain foods that are difficult to chew on with their restorations. Some healthier options are either sticky or chewy, which can cause the dentures to move out of place. While keeping a softer-food diet may be easier for patients to manage, many of these treats are also loaded with sugars and carbohydrates (such as white bread, ice cream, etc.). Overindulging in these snacks can cause more oral health issues in the future. Without the ability to chew comfortably and effectively, denture-wearers are more likely to have difficulty digesting food and absorbing nutrients properly.
How Can Dental Implants Help?
Do you tend to struggle chewing certain meals or eliminate treats from your diet altogether because of your dentures? If so, you might consider transitioning to dental implants instead. By anchoring your new teeth directly to your jawbone, you'll be able to regain 80% or more of your biting force, allowing you to munch on all your favorite foods. Dental implants can also make it easier to chew and tear through harder, tougher foods, meaning you can maintain a more nutritional diet in the long run.
If you're finding it challenging to eat comfortably with your dentures, feel free to speak with your dentist about dental implants. By making the switch, you can be sure to improve your nutrition as well as your overall well-being!
About the Author
Dr. Garrett Mulkey earned his dental degree from the Baylor College of Dentistry and has been delivering outstanding care for two decades. He's also a proud member of several prestigious organizations such as the American Dental Association, the Texas Dental Association, and the Fort Worth District Dental Society. He provides a vast selection of advanced and comprehensive treatments, including dentures and dental implants. If you'd like to schedule a consultation, visit his website or call him at 817-594-3806.