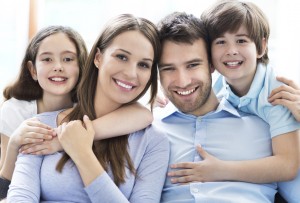 When looking for a dentist, Aledo residents often make the short and easy drive to Weatherford where they find comprehensive dental care at Cosmetic & Family Dentistry. Dr. Romack and Dr. Mulkey and their staff provide just the right combination of professionalism and friendliness. And for an added dose of convenience, you'll find just about all of the dental services you or any family member needs—including traditional orthodontics as well as Invisalign—all under one roof at your Aledo dentist office.
General, Restorative and Cosmetic Dentistry
We start with the basics and provide them with precision and care. A dental checkup may be routine, but we take the time to clean and polish your teeth and conduct a thorough examination of your entire mouth in order to find the early warning signs of issues that may require further treatment. For example, the dentists and their team are on the lookout for symptoms of TMJ disorder, gum disease, and of course tooth decay. If we find evidence of these, then you need look no further than your Aledo dentist for treatment. We have a complete menu of restorative treatments to renew your smile and help you maintain optimal oral health. These include:
Dental implants
Tooth-colored fillings
Crown and bridge
Dentures and partials
Root canal
Periodontal treatment
We also want our patients to be proud of their smiles and feel confident about the condition of their teeth. Therefore, our cosmetic dentistry services are designed to enhance the appearance of your smile in whatever way necessary. Need a whitening enhancement? Cosmetic & Family Dentistry offers two types of in-office teeth whitening. Zoom! has been a trusted system for many years and can give you a smile that is several shades whiter in about an hour. Don't have an hour? No problem—Sinsational Smile whitens teeth in 20 minutes, so you can pop in on a lunch hour and have time to spare after your appointment!
Specialty Services from your Aledo Dentist
Our comprehensive care continues with some additional dental services that you may not find at other practices. For example, if you find yourself feeling tired most days, then the problem may be sleep apnea. Dr. Romack and Dr. Mulkey work closely with area physicians to properly diagnose and treat this condition. If teeth grinding and jaw pain are a problem, then you may have TMJ disorder. We offer non-surgical treatment with intraoral appliances or the TMJ Next Generation Device.
Call Our Office Today
If you are looking for an Aledo dentist who is conveniently located and offers a variety of dental care, then look no further than Cosmetic & Family Dentistry in Weatherford, TX.