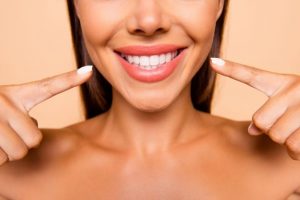 Your smile is one of the first things that people notice about you; so, if your teeth are compromised in any way, your self-esteem is in jeopardy! But fortunately, cosmetic dentistry can offer many different solutions for addressing virtually any flaw that might impact the look of your smile. Here's a closer look at some of the most common cosmetic dental flaws in Weatherford along with some ways that they're usually treated.
1. Discolored Teeth
If you're a regular coffee fiend or enjoy other beverages and foods that contain staining agents, your teeth might be noticeably stained. This staining is also often the result of poor oral hygiene. In some cases, the discoloration might also stem from other health concerns or underlying genetic conditions.
Fortunately, professional teeth whitening is often capable of correcting tooth discoloration, regardless of how it was caused. Your dentist can perform in-office whitening or send you home with a kit containing everything you need to effectively do it yourself. Both of these methods are safe, relatively quick, and can produce noticeable results that last anywhere from a few months to a couple of years.
2. Chipped or Fractured Teeth
Your teeth are strong, but they aren't invincible; they can sometimes sustain surface damage due to things like physical injury, bruxism, and more. Even though these injuries can sometimes seem alarming, they're actually very common and quite easy to handle!
One popular solution for addressing these issues is cosmetic dental bonding. Your dentist can mold and shape a tooth-colored resin over any visible flaws in your compromised teeth. Porcelain veneers can also be used; your dentist can bond thin sheets of durable, natural-looking dental porcelain to the outer surfaces of teeth, immediately improving their appearance. Sometimes, a dental crown can be used if cosmetic bonding isn't an option; these are essentially durable, tooth-colored caps that sit over your tooth and safeguard it from further damage.
3. Misshapen Teeth
Sometimes, teeth don't look quite right—and for reasons beyond our control! Having teeth that are misshapen, uneven, or disproportional to your face can make you look older and cause wrinkles, in addition to providing inadequate support your jaw and facial structure. It can also result in TMJ disorders that affect the mobility and functionality of your jaw!
Fortunately, there are a number of ways to address misshapen teeth including both veneers and cosmetic bonding. Recontouring is also an option, in which your dentist "shaves" off a small amount of enamel to match the surrounding teeth.
4. Crooked Teeth
Just as they can be misshapen, your teeth can also be crooked and misaligned upon erupting from your gums. This is usually due to genetic reasons beyond your control, but in some cases, physical trauma or other oral issues can lead to crooked teeth.
In these cases, several patients turn towards orthodontic options such as traditional metal braces. But braces are hardly the only solution capable of addressing crooked teeth—clear aligner options like Invisalign are becoming more popular, as they're able to effectively straighten teeth in a subtler and more convenient manner.
About the Practice
The team at Cosmetic & Family Dentistry of Weatherford is thrilled to serve patients and families in the area under the leadership of Dr. Garrett Mulkey, Dr. Ashley Decker, and Dr. Deborah A. Romack. The practice is pleased to offer a wide range of services including several cosmetic treatment options. If you have any questions about the article or would like to schedule a visit, you can contact the practice online or over the phone for assistance: (817) 594-3806.