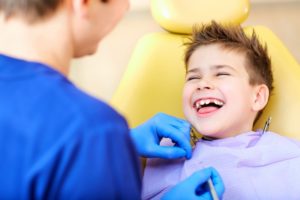 From learning to walk to trying out their favorite sports, we all do our best to keep our kids safe as they grow up. Unfortunately, chipping or cracking a tooth commonly happens in childhood. Some studies estimate that 50% of children will sustain a tooth injury before the reach their teen years. Thankfully, most of these injuries aren't an emergency and can be taken care of at home until a dentist can be seen. If your child chips or cracks a baby tooth, the problem will eventually resolve itself when it falls out to make room for the permanent tooth underneath. However, it can be a difficult experience for both you and your child in the meantime! Learn more about how to help prevent your loved one from damaging their teeth and what to do if they get a chipped tooth in Weatherford.
Chipped Teeth in Kids: Causes and Prevention
The combination of discovering how the world works and a seemingly endless supply of energy during childhood means that there are many threats to your child's teeth. One of the most common causes of chipped and cracked teeth in children is simply facial trauma. Playing contact sports, roughhousing with friends, running on slippery surfaces, and even learning to walk can cause damage to your son or daughter's teeth.
You won't be able to prevent every accident in their life, but there are certain things you can do to reduce the risk of a cracked or chipped tooth. Supervise them as they learn to walk and be sure to remove any hard objects they could fall on. Consider setting safety rules like holding the railing when using the stairs and no running on wet surfaces. When playing a contact sport, they should always wear a sports guard.
What to Do if Your Child Cracks a Tooth
If your child does chip or crack a tooth, don't panic. Nearly all cases of chipped or cracked teeth are not emergencies, but you still need to call your dentist right away. Collect whatever fragments of the broken tooth you can, make sure to check your child's lips, tongue, and gums for lodged pieces, and store them in a small glass of cold milk. Rinse their mouth with cold water and use a cold compress to reduce the swelling.
As you wait to see the dentist, it's important to keep the damage from getting worse. Your child should only be eating soft foods and attempting to avoid using the damaged tooth altogether. If they're in pain, they may take a child's dose of a painkiller.
Signs of a Dental Emergency
Immediately call an emergency dentist in Weatherford if you think your child has a dental emergency. Signs of an emergency are:
You can't find the fragments of the chipped tooth and your child is having trouble breathing.
Your child is in extreme pain or bleeding excessively.
The chipped edges of the tooth are sharp and capable of causing damage to soft tissues like gums and the tongue.
The tooth is severely broken.
Thankfully, a chipped or cracked tooth is rarely a dental emergency and can be cared for at home until you can get to the dentist's office. Keep this information in mind to help protect your children from dental damage and to be prepared if an accident does happen!
About the Author
Dr. Deborah Romack is a general, preventive, and emergency dentist based in Weatherford, TX. She is a graduate of the Baylor College of Dentistry in Dallas, TX and holds memberships in the American Dental Association, Texas Dental Association, Ft. Worth Dental Society, and many more. As a mother and grandmother, she is passionate about providing superior children's dentistry to keep young teeth healthy, even when accidents happen to chip or crack teeth. If you'd like to know more, she can be reached at her website or at (817) 594-3806.