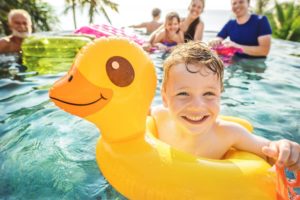 While it's impossible to completely avoid dental dilemmas, there are certain things you can do to reduce your risk. As a parent, you're focused on having an enjoyable and hassle-free summer break, and that doesn't include a trip to an emergency dentist in Weatherford. You can get the most out of the warm weather by following these six tips to steer clear of dental complications that could interrupt you and your family's summer fun.
Pool Safety
Heading to the community pool every weekend is a huge summer staple for most families. Unfortunately, swimming pool accidents are some of the most popular dental emergencies during this time of year. Jumping into the water and hitting their teeth on concrete or stone ledges and tripping and falling while running around the slippery pool can commonly cause cracks, chips, and broken teeth. So, before you head to the pool, give your little ones a list of rules to follow to keep the trip enjoyable and safe.
Keep a Dental Emergency Kit on Hand
There's more free time for children to play during summer vacation, which is why it's a popular season for dental emergencies. The best thing you can do to reduce the stress of an emergency situation is to be prepared with a dental kit whenever you visit the park or pool. Some items to include are:
Gauze
Card with your emergency dentist's phone number on it
Saline solution
Cold compress
Alcohol wipes
Vinyl gloves
Summer Sports Safety
Summer is the season for fun sports like soccer. If you or your little ones participate in any local leagues, be sure to protect yourself from chipped, broken, and fractured teeth. You can do this by purchasing a mouthguard and wearing it during any contact sports or summer activities. If your teen has braces, a custom mouthguard can help protect their oral tissues from being damaged as well!
Pack Healthy Summer Snacks
It can be easy to run to the store and pick up pre-packaged snacks to take on road trips. Most of the time, these are filled with sugar and carbs and aren't the healthiest option for your mouth. Instead, try making a point to pack healthy summer snacks like celery and carrot sticks, bottles of water, and fresh fruit.
Monitor the Little Ones' Oral Hygiene
The sudden change of schedule from going to school every day to having so much free time can cause your children to put their oral hygiene routine on hold. So, you may need to remind everyone to brush their teeth after breakfast each day and before bed every night along with flossing. If you go on any trips, don't forget to pack the essentials like toothbrushes, toothpaste, and dental floss.
Schedule Routine Checkups & Cleanings
With a more flexible schedule during the summer, it's often the best time to schedule everyone's routine checkups and cleanings with your family dentist and utilize your dental insurance benefits. Plus, taking everyone to get their mouth checked for any problems early on can prevent problems arising while you're out of town for vacation. Even though it may seem like a hassle, all of your efforts will be well worth it when you get everyone's clean bill of health and have a fun and problem-free summer.
About the Author
Dr. Deborah Romack has been practicing dentistry for decades and has completed over 1000 hours of continuing education in a variety of fields. She understands that dental emergencies can be overwhelming to handle and can happen at any time, which is why she makes every effort to see patients as soon as possible and even strives to make same-day appointments. With decades of experience and knowledge under her belt, she's able to make her patients feel comfortable and ease their worries in difficult situations. For questions or to schedule an appointment, visit Cosmetic & Family Dentistry's website or contact 817-594-3806.